MFA Thesis Screening
Event Date: 
Thursday, May 17 -

4:30 pm

to

7:00 pm
Location: 
Coppola Theater, Fine Arts Bldg., San Francisco State University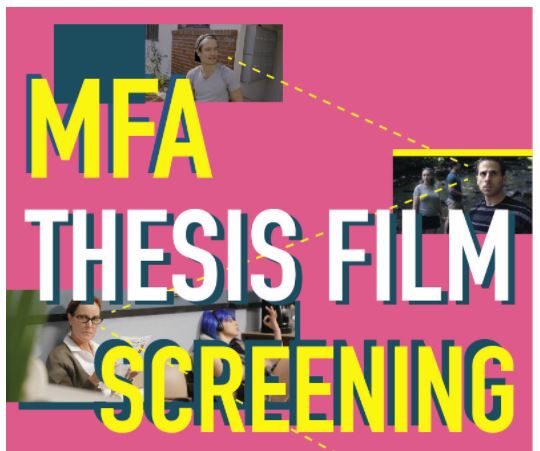 Hello Cinema Students,  
Please join the School of Cinema in celebrating the Spring 2018 MFA graduates by joining us at the MFA Thesis Film Screening on Thursday May 17. See attached flyer for details.  
Synopsis of Films:  
American Muscle by Nick Martinez
An overlooked driver exploits her brother's reputation in the underground world of drag racing to finally get a shot at proving herself in the street.  
Driving Through the Dark by Kevin Yeh
Jack, a single father, struggles with balancing his job as truck driver and spending more time with his young daughter, ultimately to learn how precious time is.  
FLOWER by Caio Simbula  The encounter between a hedonistic young lady and a prudish church going lady while waiting for their cars in a tire shop.  
His World by Daewon Kim
The secret and unique perspective of a mentally disabled boy is revealed.  
Three Short Stories of Pain & Glory by Ron Burgess
Three writers workshop their short stories during a hot night in Vermont.  Each writer's story reveals their dreams, ambitions, and their true feelings about each other.  
WAVES by Simon Hagene
When Scott finally meets with his mother(Laura) again, a recovering alcoholic, a haunting truth soon plunges towards him.
-- 
Best Regards, 
School of Cinema
cinema.sfsu.edu  
Spring 2018 Hours:
Monday – Thursday: 9:00a.m.-4:00p.m.
Friday: 9:00a.m.-1:00p.m.
Fine Arts Building, Room 245
San Francisco State University
1600 Holloway Ave. 
San Francisco, CA 94132
Phone: 415-338-1629
Fax: 415-338-0906