Archive Project Event - "Archive of Hidden Voices"
Event Date: 
Tuesday, February 9 - 6:00 pm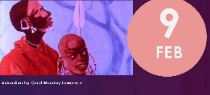 "Archive of Hidden Voices"
February 9, 2021, 6p.m. PST
To kick off the SFSU School of CInema's The Archive Project's Spring series focusing on Race, Rebellion, and Resistance, Resident Curator Stephen Kane will present "Archive of Hidden Voices" which will showcase some of the cinematic representations and expressions of Black and Native Americans in the mid-20th Century and the historical contexts that produced them. With all of the titles being part of the Archive Project's celluloid collection, his presentation will also explore the importance of preserving obscure and "less refined" works of art in their original format.
Organized by SFSU alum Stephen Kane and introduced by Celine Parreñas Shimizu, Director of the School of Cinema.