Alum Jonas Rivera Wins Academy Award for Best Animated Feature Film
Thursday, February 13, 2020 - 09:55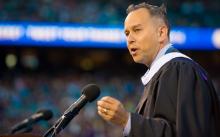 Cinema graduate Jonas Rivera won his second Academy Award on February 9, sharing the Best Animated Feature Film honor for Pixar's "Toy Story 4."
The longtime Pixar producer won his second Oscar, having won in the same category in 2016 for "Inside Out." Rivera is the first U.S.-born Latinx person to win multiple Academy Awards. He shares his latest Oscar with director Josh Cooley and producer Mark Nielsen.
Rivera (B.A., '96) joined Pixar in 1994 while attending SF State, serving as the studio's first production intern and working on the original "Toy Story." He landed his first Oscar nomination in 2010 with "Up."
Fellow Cinema graduate Steven Zaillian was also nominated for an Academy Award this year, for Best Adapted Screenplay for the Martin Scorsese-directed "The Irishman." Zaillian (B.A., '75), a five-time nominee, won in the same category in 1993 for "Schindler's List."
In addition, Poh Si Teng (B.A., '07) produced the film "St. Louis Superman," a nominee in the Documentary Short Subject category. She works as a senior producer for the TV documentary series "Witness" on the Al Jazeera English network.
— Matt Itelson
Links
Video
Story updated February 14, 2020