ANNOUNCING WEEKEND CINEMA 325 CLASSES
Wednesday, December 9, 2020 - 18:30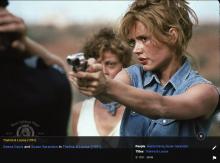 Dear Cinema Community,
For three weekends in early spring you will have a chance to take an intensive course on three different topics.  You may take one or all.
February 5-6—Cinema Faculty Showcase--Presentations by 8 Cinema faculty presenting their research or films
February 19-20—Eastern European Cinema—A selection of films from the most significant directors of the region
March 5-6—George Sluizer—A variety of documentaries and features shot all over the world by the legendary Dutch director
CINEMA 325.01—CINEMA FACULTY SHOWCASE, February 5-6, 1 unit, CR/NC.
You get to see and hear 8 entertaining filmmakers, critics, and historians.
You will see films in the making.
You will hear the latest ideas about the meaning of movies.
You will have an insider's view of the School of Cinema.
You will know what courses, what professors to take.
All in one weekend!
And you get credit for it for your major!
Is this too good to be true?  Absolutely not!
This is an offer you can't refuse!
CINEMA 325.02--THE BEST OF EASTERN EUROPEAN CINEMA—February 19-20—One unit CR/NC
In one weekend you will be presented a bouquet of the very best films from Eastern Europe, from the 1950's to the present.  
You will see films from Poland, Czechoslovakia, Romania, Yugoslavia, Hungary.  
The films are by the great masters Wajda, Jires, Kusturica, Tarr, covering political upheaval, World War II, the artistic freedom of the 1960's, surrealistic fantasy.  
We will also feature a special appearance by Romanian director Corneliu Porumboiu discussing his latest film THE WHISTLERS.
This weekend will be a profound, mind-blowing exposure to the possibilities of historical and stylistic cinema from the heart of Europe. 
CINEMA 325.03—GEORGE SLUIZER—DOCUMENTARIES AND FEATURES—March 5-6—One unit CR/NC
You will have a unique opportunity to sample the brilliance and diversity of Dutch filmmaker George Sluizer.  He began as a documentarian, making films all over the world, chronicling the lives of natives in the Amazonian jungle, Portuguese fishermen risking their lives off the coast of Newfoundland, Palestinians surviving the occupation of their land.  And he went on to make a wide range of feature films, with Tony Perkins, Bibi Andersson, Armin Mueller-Stahl, Geraldine Chaplin, Kieffer Sutherland, shot in Brazil, Europe, Texas, Hollywood.  He made one of the most frightening films ever made, THE VANISHING, the only adaptation of the work of Nobel Prize winner Jose Saramago, THE STONERAFT, and the last film of River Phoenix, DARK BLOOD.  We will have his collaborators participate in the course, talking about the way he worked.
The three courses will be presented by Steven Kovacs.  Professor Kovacs received an Academy Award Nomination for the documentary ARTHUR AND LILLIE.  He has written on film, politics and the arts.  He was head of production for Roger Corman's New World Pictures and has written, produced and directed independent feature films and documentaries, such as THE LADY IN RED, RIO ABAJO, '68, ANGEL BLUE.  He is an expert on Eastern European film and was a collaborator and friend of George Sluizer.