"The Archive Project: Imagine Our Future" presents Mark Toscano
Tuesday, October 20, 2020 - 18:00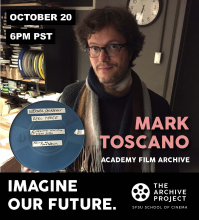 Tuesday, October 20th, 6:00 pm PST
Mark Toscano
 is a filmmaker, curator, and film preservationist based in Los Angeles. Since 2003, he has worked at the Academy Film Archive, where he specializes in the curation, conservation, and preservation of artists' films. He works with the collections of over 150 filmmakers, and has overseen the conservation and preservation of hundreds of films, including work by Stan Brakhage, Barbara Hammer, Chick Strand, Tacita Dean, Penelope Spheeris, Betye Saar, the Whitney brothers, Gus Van Sant, Pat O'Neill, Suzan Pitt, and many others. He has curated and presented programs at numerous venues, including MoMA, Arsenal, EYE Filmmuseum, Centre Pompidou, and festivals in Rotterdam, London, Zagreb, Bangalore, Seoul, and elsewhere. He is a programmer with Los Angeles Filmforum, and has lectured at various universities on experimental film and archiving, as well as teaching in the Experimental Animation department at CalArts. 
This event is part of a year-long series of online talks exploring contemporary issues in film archives and preservation practices. These events are organized in dialogue with the School of Cinema's ongoing series, "Race, Resistance and Rebellion." Funding for this event is provided by a grant from the CSU Entertainment Alliance.
The Archive Project
The Archive Project is a new initiative within the School of Cinema to promote access to the school's vast collection of cinema-related archive materials. The collection includes both commercial film titles for study and research as well as rare and unique materials such as SF State student films dating back to the 1960s. The Archive Project strives to create a platform for students to gain hands-on experience working with film archives and curating film programs, while exploring contemporary issues in the growing field.