"The Archive Project: Imagine Our Future" Presents Vero Majano Co-Presented by the Queer Cinema Project
Tuesday, November 17, 2020 - 18:00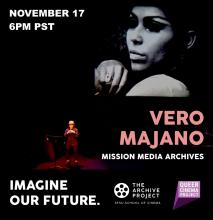 Tuesday, November 17th, 6:00 pm PST 
Vero Majano is an artist and cultural worker born and raised in San Francisco's Mission district. Her multimedia projects often include archival footage, film, photographs, collage, interviews, and storytelling. She is a co-founder of the Caca Collective and the Mission Media Archives, which collects and preserves audio and films shot in San Francisco's Mission district during the 1970s and '80s. Her work has been shown at the Guggenheim Museum in New York, the McEvoy Foundation for the Arts, the deYoung Museum, Oakland Museum of California, and Galeria de la Raza. She has received grants from the Rockefeller Foundation Media Fellowship, the Puffin Foundation, and the Free History Project, and was a resident at the Headlands Center for the Arts and Djerassi Resident Artist program.  
This event is part of a year-long series of online talks exploring contemporary issues in film archives and preservation practices. These events are organized in dialogue with the School of Cinema's ongoing series, "Race, Resistance and Rebellion." Funding for this event is provided by a grant from the CSU Entertainment Alliance. 
The Archive Project 
The Archive Project is a new initiative within the School of Cinema to promote access to the school's vast collection of cinema-related archive materials. The collection includes both commercial film titles for study and research as well as rare and unique materials such as SF State student films dating back to the 1960s. The Archive Project strives to create a platform for students to gain hands-on experience working with film archives and curating film programs, while exploring contemporary issues in the growing field. 
Queer Cinema Project 
Housed within the College of Liberal and Creative Arts at San Francisco State University, the Queer Cinema Project (QCP) aims to connect academic, cultural and political fields of production, fostering meaningful exchange between emerging and established filmmakers. 
QCP serves as a hub for an innovative and rigorous approach to the research, production, study and distribution of cinema that speaks directly to the many aspects of the Lesbian/Gay/Bisexual/Transgender/Queer (LGBTQ) experience. QCP organizes its own events as well as collaborating on projects with partners and partner organizations within and beyond SF State.