Black 2 Da Movies (Black Film Club event 10/31/2020, 7-11PM)
Wednesday, October 28, 2020 - 14:01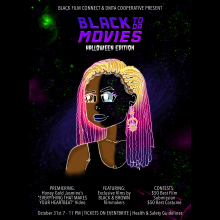 Dear Gators:
Black Film Club is back with another Film Festival/Mixer this Halloween October 31st 7-11PM, join us this Saturday night in downtown Oakland for a Black & Brown cinema extravaganza you won't soon forget! Featuring 10 original shorts by talented, up and coming Black & Brown filmmakers. There will also be a Q&A with the filmmakers at the end of the event. Tickets start at $20.
Come in costume for a chance to be celebrated for best costume!
This is an outdoor, COVID-19 compliant event. Face masks are required, temperatures will be taken at our admission booth prior to entry.
We hope to see you there!