Book Salon for The Labor of Care: Filipina Migrants and Transnational Families
Wednesday, February 13, 2019 - 18:00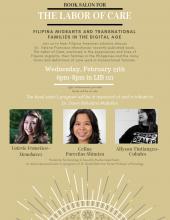 Join us to hear Filipina American scholars (Allyson Tintiangco-Cubales and Celine Parreñas Shimizu) discuss Dr. Valerie Francisco-Menchavez' recently published book, The Labor of Care, anchored in the experiences and lives of Filipina migrants, their families in the Philippines and the many forms and definitions of care work in transnational families.
The book salon's program will be in memorial of and in tribute to Dr. Dawn Bohulano Mabalon.
The event is hosted by the Sociology & Sexuality Studies department at San Francisco State University and will take place on Wednesday, February 13th 6pm-8pm in Library room 121.