CINE 402: Arab Cinema: Women Film Directors, Women's Voices from the Middle East/Maghreb
Tuesday, July 25, 2017 - 16:59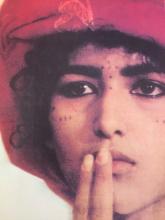 The Cinema Department is pleased to announce a new course being offered for Fall 2017 that is open to both Cinema majors and non-Cinema majors!
CINE 402: Arab Cinema: Women Film Directors, Women's Voices from the Middle East/Maghreb
"The cultural landscape is changing in the Middle East, the Arab Spring gave power to the people and women are challenging oppression, inequality and corruption - and from this, stories are born." Nadine Kirresh, Al Arabiya, "Big Screen Cinema"
Are there any Arab female film directors? What thematics and issues do their films raise? What are the social and political pressures on their productions and their voice as artists? This course introduces students to the work of prominent Arab and Muslim female directors working in the MENA region (Middle East and North Africa) past and present, considering their aesthetic approach to their work and the ways they work to challenge the dominant discourse and culture. The class include lectures, group discussion and assigned readings from books and supplemental materials, We will watch one feature-length film in each class (many rare and difficult to obtain) in addition to various shorter films, sequences and clips. Students will be responsible for one short paper/film review, a take-home midterm and one final paper. Visiting lecturer and filmmaker Amie Williams has recently worked in Tunisia, Turkey, Lebanon and Marocco, and is the founder of the non-profit GlobalGirl Media. 
N.B. The usual prerequisites for this section of CINE 402 are being waived. Students in any major who have completed ENG 214 or the equivalent may enroll. Students who have not completed ENG 214 should contact the Cinema program to see if they may be admitted.