Cinema 650 Filmmaking Masterclass - 3/12: 650.2 – Masterclass with Filmmaker Christopher Münch: "'Speculative History' – Fiction Filmmaking Inspired by History"
Friday, March 12, 2021 - 17:37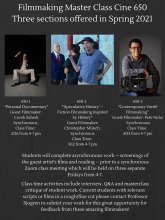 Dear Cinema Community,
We have an exciting line-up of three sections of Cinema 650 Filmmaking Masterclass scheduled for Spring 2021.  Each section of Cine 650 welcomes a different guest filmmaker who will be sharing their process, insights and offer feedback to students.  Our guests, Caveh Zahedi, Christopher Munch and Pete Nicks are all award-winning filmmakers who take exciting risks in their work, and who have developed unique approaches to documentary and fiction filmmaking. 
Requirements for the class include asynchronous work – screenings of the guest artist's films and reading -- prior to a synchronous Zoom class meeting which will be held on three separate Fridays from 4-7 (one Friday class per section.) The Zoom class session will include interviews conducted by Professor Sjogren, Q&A with students and critique/feedback sessions with selected students.   All students will also complete a short paper or short creative project responding to the material and ideas covered in class.
Seniors and Graduate students enrolled in the course may submit ongoing work (rough or fine cuts) or even scripts for feedback.  These unique sessions are a rare opportunity to have working professionals provide you with input on your work!  Interested students should contact Professor Sjogren for more information, an enrollment code, and/or to submit work to be considered for a feedback slot during the sessions.
Information on the classes, the specializations to be discussed, bios for our guests and of Professor Sjogren provided below.
3/12:  650.2 – Masterclass with Filmmaker Christopher Münch:  "'Speculative History' – Fiction Filmmaking Inspired by History"
Christopher Munch is a producer-writer-director whose films include The 11th Green, (2020, starring Campbell Scott) a speculative history about a journalist exploring the legend of Eisenhower's involvement in extraterrestrial events, Letters from the Big Man (2011, starring Lily Rabe), in which a forester has a life-altering encounter with a mystic Sasquatch; Harry and Max (2004), about two brothers -- both pop idols; The Sleepy Time Gal (2001, starring Jacqueline Bisset), about a dying mother's search for a daughter put up for adoption at birth; Color of a Brisk and Leaping Day (1996, starring Michael Stipe), about a young man's quixotic quest to save short-line railroad in the 1940s; and The Hours and Times (1992, starring Ian Hart), based on the friendship of Brian Epstein and John Lennon, a lauded work that received jury prizes at Sundance and Berlin. Munch's films have played in competition at Sundance as well as at numerous other major international festivals.  He is a Guggenheim Fellow, recipient of the IFP's Someone to Watch Award, and was featured in two Whitney Biennial exhibitions. 
Synchronous Classtime:  4-7 pm
Professor/Moderator Britta Sjogren is Professor of Cinema at San Francisco State University, where she teaches advanced filmmaking, screenwriting and critical studies, with particular interest in sound, voice, and feminist studies of film.  A writer/director/producer of fiction and hybrid fiction/documentary films,  her features and shorts have screened widely at major international festivals and received many awards, including the Grand Jury Prize for Best Short Film at Sundance.  Her most recent feature, Redemption Trail, (starring Lily Rabe and LisaGay Hamilton) was awarded Best U.S. Film at Mill Valley and the Harlem International Film Festival's Mira Nair Award, among other distinctions.  Currently, Sjogren is developing an episodic crime series excavating the crisis of Missing and Murdered Indigenous Women and Girls, in collaboration with members of the Yurok Nation of Northern California.  Sjogren is also author of a book on female voice and sound in film, Into the Vortex: Female Voice and Paradox in Film.  She is a Guggenheim Fellow.