CINEMA COCKTAIL HOUR: DREW DIXON: Music Producer and Subject of documentary ON THE RECORD (2020)
Friday, December 4, 2020 - 16:00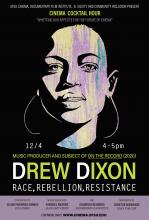 Dear Cinema Community:
Please join us on Friday, December 4 from 4-5pm for our last CINEMA COCKTAIL HOUR of the semester.
The School of Cinema welcomes Drew Dixon, music producer and subject of the documentary ON THE RECORD (2020) which focuses on Black women and the #metoo and #timesup movements.
Drew Dixon will be in conversation with Soumyaa Behrens, Director of the Documentary Film Institute and Tarshel Beards, Director of the Black Unity Center. Director of the School of Cinema Celine Shimizu will introduce and co-founder of the Black Film Club Seretse Njemanze will moderate.
The event is co-sponsored with the Documentary Film Institute and the Institute for Equity and Community Inclusion. We are in the process of acquiring access to the film ON THE RECORD and will share the information before the event.
Be well,
Celine
~~~~~~~~~~~~~~~~~~~~~~~~~~~~~~~
Celine Parreñas Shimizu, M.F.A., Ph.D.
Professor and Director
School of Cinema
San Francisco State University
she/her
~~~~~~~~~~~~~~~~~~~~~~~~~~~~~~~
Let's do great things together!