CINEMA COCKTAIL HOUR: HARVARD UNIVERSITY PRESS Friday, November 6, 2020 4-5pm
Friday, November 6, 2020 - 16:00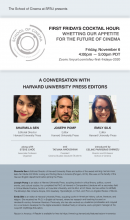 Dear Cinema Community:
Please join us on Friday, November 6 at 4-5pm as we welcome the Editorial Director and two acquisitions editors from Harvard University Press.
The Editorial Director Sharmila Sen will talk about Harvard UP's publishing in film and media studies as well their new celebrated project Racism in America: A Reader (2020) which you can download for free now. Then you will learn from Harvard UP's newest acquisition editors Joseph Pomp and Emily Silk on how to write a book proposal and what they are currently acquiring and publishing at Harvard University Press.
As per usual the format of our Cinema Cocktail Hour: Whetting Our Appetite for the Future of Cinema event will be a conversation between our guests and a faculty member and student. Thanks to Associate Professor Steve Choe and Tatiana Anoushian, President of the Cinema Studies Graduate Students for engaging our guests before we open it up for Q&A with our community.
I will introduce the event which is part of our programming focus this year on Race, Resistance and Rebellion. Thank you for gathering with us as we build community and create new networks during this pandemic.
Please go to tinyurl.com/sfsu-first-fridays-2020
Be well,
Celine
~~~~~~~~~~~~~~~~~~~~~~~~~~~~~~~
Celine Parreñas Shimizu, M.F.A., Ph.D.
Professor and Director
School of Cinema
San Francisco State University
she/her
~~~~~~~~~~~~~~~~~~~~~~~~~~~~~~~
Let's do great things together!