Cinema Graduate has 6th Academy Award nomination!
Wednesday, January 23, 2019 - 12:04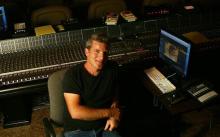 Congrats to SF State graduate Ethan Van der Ryn on his 6th Academy Award nomination! He is nominated for Achievement in Sound Editing for "A Quiet Place" movie with Erik Aadahl.
Previously, Van der Ryn won Oscars for his sound work on "The Lord of the Rings: The Two Towers" and "King Kong."
Van der Ryn earned his B.A. SF State in Cinema in 1985. Read more about him in this SF State Magazine story from 2013.