Cinema Valediction Ceremony for the Class of 2021
Friday, May 28, 2021 - 12:00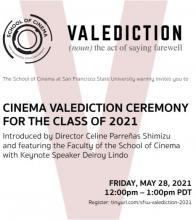 Get ready for our 2021 Cinema Valediction Ceremony! All graduating Cinema students - please send a 100-word reflection and photo of yourself to cinemavalediction@sfsu.edu to commemorate your time here at SFSU Cinema! We look forward to honoring and celebrating you and your wonderful accomplishments. 
To register for the Cinema Valediction Ceremony on May 28th, 2021 at 12pm, please go to cinema.sfsu.edu
Take a look at last year's celebration! 
See 2020's high-spirited Cinema Valediction Ceremony.
As well as a list of memorable statements from last year's graduates.