Cinematography Master Class Goes to L.A.
Friday, December 18, 2015 - 14:16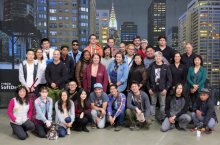 Last week, as part of the Cinematography Master Class, we had total 32 students (20 MFA grads and 12 undergrads) participated a three-day field trip in L.A. During these three days, We had an 6-hour lighting workshop with Larry Parker at Mole Richardson; discussion panel with 6 renowned ASC cinematographers including two time Academy Award winner, Haskell Weller, ASC, 6 Emmy award winner George Spiro Dibie, ASC ; we also had tours and seminars at Fotokem, Rosco and Filmtools. It has been an invaluable experience for our students not only to have an opportunity to visit industry and to learn the most forefront technologies in the field, but also had chance to interact and learn the first hand experience from the leading professionals and filmmakers. The trip to L.A. Was extremely fruitful and productive.
For your information, I'd like to share with you some of the pictures from our trip.
For more pictures, please visit: https://www.facebook.com/weimin.zhang1/media_set?set=a.10153193989356643...
Cinematography workshop with Matt Siego.
https://www.facebook.com/weimin.zhang1/media_set?set=a.10153193992591643...
Thank you all for the encouragement and support!