Commencement Speakers Neda Nobari, Jonas Rivera Named 2020 Alumni of the Year
Monday, October 5, 2020 - 13:27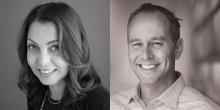 Philanthropist and Oscar-winning producer to be inducted into Alumni Hall of Fame.
San Francisco State University has named Iranian American humanitarian and businesswoman Neda Nobari (B.S., '84) and Academy Award-winning Pixar producer Jonas Rivera (B.A., '96) Alumni of the Year. They'll join dozens of other distinguished alumni who have been inducted into the Alumni Hall of Fame since 1994. The University plans to honor this year's inductees at a virtual ceremony Friday, November 6, and at a future celebration when it's safe to gather in person.
Both Gators have made significant cultural contributions and are pioneers in their fields — Rivera in film and Nobari in business and educational philanthropy. Rivera is the first U.S.-born Latinx producer to win two Oscars. And Nobari, following on a successful career in retail fashion, established the first-of-its-kind Center for Iranian Diaspora Studies at San Francisco State. She's also an inaugural member and currently vice chair of SF State's Foundation board, where she has been integral to the Foundation's nationally recognized leadership in socially responsible and "green" investing. Rivera and Nobari both left an indelible imprint on SF State graduates, having delivered the University's Commencement addresses in 2016 and 2017, respectively.
"Each has risen in their chosen field while consistently lending support, advice and guidance to the next generation of graduates"
— SF State President Lynn Mahoney
"Neda and Jonas represent all that is good about SF State and our alumni," said SF State President Lynn Mahoney. "Each has risen in their chosen field while consistently lending support, advice and guidance to the next generation of graduates. On behalf of the entire University community, I offer my sincere congratulations and appreciation."
Neda Nobari
A businesswoman, humanitarian and philanthropist, Nobari emigrated from Iran to the United States in 1978 at the age of 15. She earned a degree in Computer Science from SF State and has since become a leading supporter of the University.
She started her career in fashion, piloting clothier bebe stores, Inc. into a retail powerhouse. In 2006 she focused her talents on establishing MOZAIK (formerly the Neda Nobari Foundation), with a philanthropic mission of promoting social and environmental justice through arts and education.
Since 2013, Neda has served as board chair, director and trustee at over a dozen nonprofit organizations. She is also a lifelong benefactor of social issue film, having executive produced and supported over two dozen films. In 2020, Nobari's foundation relaunched as MOZAIK Philanthropy, with a mission to explore and model new practices across the sector.
As an inaugural member and current vice chair of the SF State Foundation's board of directors, she has been a consistent advocate for growing the University's public prominence and securing resources to further its mission. As chair of the board's investment committee, she actively worked with fellow board members in support of the critical work of adopting a socially responsible investment policy for the foundation's endowment and was pivotal in helping establish a "Green Fund" that led the way in eco-focused investing.
Most recently, she has championed efforts to support the Student Sustainable Investment Fund, where students in the Lam Family College of Business learn the core practices of sustainability-focused investing.
Her philanthropy at SF State reflects her core values of scholarship, community and student centeredness. In 2017, Nobari established the Center for Iranian Diaspora Studies at SF State, the first and only academic institution of its kind dedicated to research and teaching about the historical and cultural experiences of the global Iranian diaspora community. Her transformative work at the University also includes helping renovate the J. Paul Leonard Library, supporting former foster youth through the Guardian Scholars Program and, most recently, helping lead efforts in support of the HOPE Crisis Fund.
Jonas Rivera
A Bay Area native, Jonas Rivera grew up in Castro Valley. His obsession with film, especially animated ones, started at a young age. In 1994, while he was studying film production at SF State, he landed a dream internship at Disney's Pixar Animation Studios. He worked on the animated feature "Toy Story." Although some of his duties included sweeping floors and getting lunches, he cherished the experience, which launched his more than 20-year career with the company. He graduated from SF State in 1996.
Since graduation he's worked on nearly every Pixar film to date, winning two Oscars for Best Animated Feature for "Inside Out" in 2016 and "Toy Story 4" in 2020.
He's held various roles at Pixar as he worked his way up, including art department coordinator for "A Bug's Life," marketing and creative resources coordinator on "Toy Story 2," art department manager on Oscar-nominated "Monsters Inc." and production manager on the Golden Globe-winning feature "Cars."
His first credit as producer was on the 2009 animated feature film "Up," for which he was named Producer of the Year in Animated Features by the Producers Guild of America and earned a nomination for Best Picture at the Academy Awards in 2010.
He joined the board of SFFILM in 2020 and is an active member of their Education Committee.
For more details about the event, visit the Alumni Hall of Fame website.
— Jamie Oppenheim