In Constant Motion with Film Producer, Alum Sandino Moya-Smith
Wednesday, September 2, 2020 - 10:39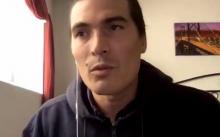 Sandino Moya-Smith, an MGM Studios executive and SF State graduate, urged student filmmakers to develop their unique life perspectives into a personal style and brand, during a guest talk at the School of Cinema's convocation.
"Your POV [point of view] is going to be what we respond to," Moya-Smith said at the August 20 event, held by video conference. "Being able to showcase that POV in whatever medium, is extremely important."
The event kicked off a yearlong series in the School of Cinema focusing on race, rebellion and resistance in film.
During his talk, Moya-Smith reinforced the need for fledgling filmmakers to not only be obsessed with the medium, but to discover and refine how their worldviews play out on screen.
"Stay true to yourself and allow your own voice to guide you," he said.
While attending SF State, Moya-Smith was in constant motion — whether running for the Gators' Cross-Country team or making films. He enjoyed using the school's old-school analog equipment: Steenbeck film editors, 16mm Bolex cameras and optical printers. At Silverscreen Video Center in Oakland, he dedicated his 20-minute lunch breaks to screenwriting. Later in the evening, he would work on screenplays and study films with friends. He often wound up sleeping on their couches after missing the last BART train of the night.
"I wanted that extra 20 minutes to work together," he said.
After completing his Bachelor of Arts in 2008, Moya-Smith moved to Los Angeles. Doing anything he could to spend time on film sets and make connections, he took work as an extra. Eventually, "The Hunger Games" director and screenwriter Gary Ross made Moya-Smith his assistant.
Moya-Smith has gone on to serve as associate producer for "Ocean's 8" and "Free State of Jones." As vice president of production at Limelight Entertainment, he put together 2020's "Palm Springs" starring Andy Samberg.
Moya-Smith is the son of a migrant farmworker and a nonprofit women's-rights attorney. Of Indigenous Mexican descent, he was raised in the Tenderloin neighborhood in San Francisco.
As for his own unique point of view, and those of peers from underrepresented groups, this year industry leaders have begun to pay attention, he said. As an example, he noted MGM's Orion Pictures will exclusively projects featuring underrepresented, underserved voices and authentic storytelling. He credits the Black Lives Matter and #MeToo movements.
With Hollywood more eager to tell diverse stories, students should stay in creative mode and refine their filmmaking style.
"Always try to be creating something, even if it's just a short story or even if it's just a video with your daughter on your iPhone," Moya-Smith said. "There's no excuse for someone not creating a one-minute short every weekend."
— Matt Itelson
Links