IN CONVERSATION WITH THE ALUMNI OF THE YEAR
Friday, November 20, 2020 - 16:00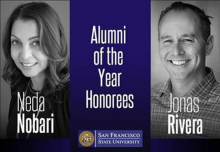 School of Cinema Director Celine Shimizu introduces SFSU CINEMA grad and undergrad students Sepideh Khosrowjah and Sophia Roger in conversation with the Alumni Hall of Fame 2020 Honorees Jonas Rivera and Neda Nobari
Friday, November 20, 4-5 p.m.
Businesswoman and philanthropist Neda Nobari emigrated from Iran to the United States in 1978. She earned a degree in Computer Science from SF State in 1984. In 2015, Nobari continued her studies at Dartmouth College, earning a Master's Degree in Liberal Studies.
She started her career in fashion piloting clothier bebe stores, Inc from 1984 to 2006 and established
MOZAIK
(formerly, the
Neda Nobari Foundation
) with a philanthropic mission of promoting social and environmental justice through arts and education.
She's a lifelong benefactor of social issue film, having executive produced and supported over two dozen films including the 2019 Oscar-nominated short "Los Commandos."
An inaugural member of the
SF State Foundation's Board of Directors
, and now its current Vice Chair, she has been a consistent advocate for growing the University's public prominence and securing resources to further its mission. As chair of the board's investment committee, she actively worked with fellow board members to adopt a socially responsible investment policy for the foundation's endowment and was pivotal in helping establish a "Green Fund" that led the way in eco-focused investing.
Nobari's transformative work at the University also includes helping to renovate the J. Paul Leonard Library, supporting former foster youth through the Guardian Scholars Program and leading efforts in support of the HOPE Crisis Fund to help students in need remain focused on their studies.
In 2016, she announced a historic $5 million gift to establish the
Center for Iranian Diaspora Studies
, the first and only academic institution of its kind dedicated to research and teaching about the historical and cultural experiences of the global Iranian diaspora community.
In 2019, Nobari augmented the endowment with an additional $1 million gift to support post-doc and graduate fellowships as well as undergraduate and faculty scholarships to promote engagement across campus and with other universities, including the SF State Green Fund to advance the cross-disciplinary practice of socially responsible and green investing.
A Bay Area native, Jonas Rivera grew up in Castro Valley and graduated from San Francisco State University in 1996 with a degree in film production.
Rivera joined Pixar Animation Studios in 1994 to work on "Toy Story" as the studio's first and only production intern at the time. He advanced roles on almost every subsequent Pixar feature film until becoming producer of the studio's 2009 film "Up." In 2015, Rivera teamed up again with director Pete Docter for "Inside Out," which won an Academy Award for best animated feature and was nominated for best original screenplay. He most recently produced "Toy Story 4," which also won an Academy Award for best animated feature.
Rivera's various past roles at the studio include art department coordinator for "A Bug's Life," marketing and creative resources coordinator on "Toy Story 2," art department manager on "Monsters, Inc.," and production manager on "Cars."
In his executive role as senior vice president, production, Rivera oversees all of feature film production at the studio.
Rivera has been awarded Producer of the Year in Animated Features by the Producers Guild of America for his work on "Up," "Inside Out" and "Toy Story 4." "Up" earned a nomination for best picture by the Academy of Motion Picture Arts and Sciences — only the second animated film in history to do so.
He joined the board of SFFILM in 2020 and is an active member of their Education Committee.