CSU Media Arts Festival Finalists and Exciting News!
Monday, August 20, 2018 - 13:42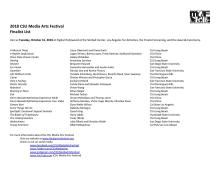 Dear CSU Media Faculty and Staff,  
I am thrilled to share such exciting news with you!  
·       First, find enclosed the list of 23 finalists for the 28th Annual CSU Media Arts Festival. We received entries from 13 campuses, and our round of finalists represents 8 campuses. Great work everyone!  
·       And now for additional exciting news – This year, the MAF has been given the opportunity to collaborate with the acclaimed Digital Hollywood media conference. Participants attending the MAF screening and awards ceremony will also have the opportunity to attend the full three days of Digital Hollywood, meet industry professionals and attend a variety of panel discussions on the latest issues in media technology.  
The MAF is Tuesday, October 16, and Digital Hollywood is October 16-18, 2018. Save the dates and make time on your schedules to attend. I know that it is tougher to attend event during the week, however, this is a really exciting opportunity that you will want to pursue!  
I will soon send an additional email to you very soon with more details and links for registration, however, here's a teaser:
Where: Digital Hollywood, The Skirball Center, Los Angeles
When: MAF – Tuesday, October 16, 2018 AND Digital Hollywood – Tuesday, October 16 through Thursday, October 18, 2018
Cost:     $25 for students, and $75 for Faculty and Staff (FOR ALL THREE DAYS!!!)  
As always, I look forward to hearing from you and receiving feedback.  
See you at the MAF!  
Shannon  
Director, CSU Media Arts Festival
562.951.4068