Faculty News with Professor Boswell and Professor McBride
Thursday, August 22, 2019 - 09:30
Professor Scott Boswell's new feature, A WAKE, has three screenings coming up:
Big Apple Film Festival in NYC (August)
Cinema Diverse (LGBTQ Film Festival) in Palm Springs (September)
Marbella International Film Festival in Spain (October)
In September, Scott will be sharing work from his in-progress documentary about queer homeless youth at the True Colors Summit in Washington, DC. True Colors United is a national organization that works year-round to end queer youth homelessness.
Professor Joseph McBride is working on a critical study of Billy Wilder.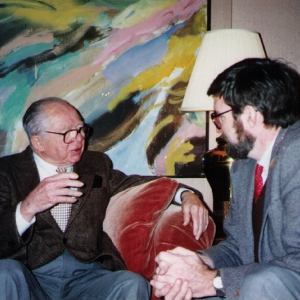 It's a companion piece to his critical study HOW DID LUBITSCH DO IT? (Columbia University Press, 2018). His most recently published book is FRANKLY: UNMASKING FRANK CAPRA (Hightower Press, 2019). McBride did the audio commentary for the Kino Lorber Blu-ray edition of Wilder's A FOREIGN AFFAIR, which was released this August. And he was among the interviewees on the CNN series THE MOVIES. Professor McBride acted in the Orson Welles film THE OTHER SIDE OF THE WIND and two documentaries about it, all released in 2018. This year, he is in two documentaries by Clara and Julia Kuperberg, YELLOWFACE: ASIAN WHITEWASHING AND RACISM IN HOLLYWOOD and GARY COOPER —THE IRRESISTIBLE.