International Students Films Night
Tuesday, December 8, 2020 - 18:00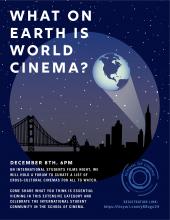 What time do you wake up to go to school? During the time of the pandemic, international students are taking classes in different time zones, which means they're attending class at unusual hours. The School of Cinema is celebrating the efforts of the international student community under these conditions on International Students Films Night on December 8th from 6-7 pm.
This event is also a celebration of cross-cultural cinema. We are calling for the Cinema community to come together, to have lively discussions about our favorite global films, and to celebrate, all right before finals!
Question: Why should you attend International Students Films Night even though you are not an international student?
Answer: SFSU is one of the most diverse urban campuses in the nation and we are all a part of the global community!
Director Celine Shimizu will provide opening remarks. MFA Student and Cinema Event Organizer DJ Chan will explain the flow of the event and how breakout rooms will be facilitated.
Cinema professors participating include Julian Hoxter, Weimin Zhang, Jenny Lau, and Steve Choe. These professors will lead interactive breakout room discussions where we will curate a list of global films that can be considered as "essential viewing." Together, we will forge this global films list for all to enjoy during the holidays! Please come and celebrate global cinema and the international student community within the School of Cinema!
Register here: https://tinyurl.com/y68ogc24