It's Internship season!
Friday, December 11, 2020 - 16:00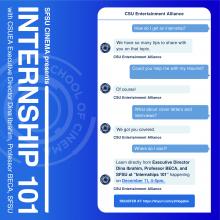 We are thrilled to invite you to our winter Internships 101 Workshop, conducted by CSUEA Executive Director Dina Ibrahim on December 11th from 4-5 pm. 
This event was planned with both undergraduate and graduate students' interests in mind. We understand that securing an internship is already difficult under normal circumstances, and with the conditions of this pandemic, these difficulties can be magnified. That is why we encourage all Cinema students to take advantage of this exciting opportunity to get direct knowledge from someone who knows about the job application processes in the entertainment industry. Specifically, this event will address how internships are still beneficial during a pandemic and how the application processes may look different. We want to help you all snatch those internships and we want to see SFSU Cinema students succeed! 
See you all there!
DJ Chan, MFA Student, SFSU Cinema
Event Organizer and Assistant to Director Celine Shimizu