Marcus Early Career Research Award Helps Faculty Reach Finish Line
Tuesday, February 16, 2021 - 14:42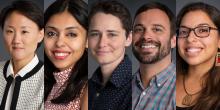 In its second year, the College of Liberal & Creative Arts' Marcus Early Career Research Award will help five faculty members complete their book and film projects that explore social-justice issues in the U.S. and abroad.
The award, supported by the George and Judy Marcus Funds for Excellence in the Liberal Arts, provides a one-semester leave in 2021 – 2022. It funds projects in research, scholarship and creative activities. Probationary tenure-track faculty in their third, fourth or fifth year are eligible. Last year, three assistant professors won the award.
Laura Green's documentary "Run Jayne, Run" follows a Wisconsin nurse who decides to run for state Senate in the face of a COVID-19 surge and a bitter debate over masks.
Jayne Swiggum, 53, is a funny, plain-spoken progressive who lives on a dairy-turned-soybean farm with her husband and homebound father. Green, an assistant professor of Cinema, shot the film over the summer.
"I saw a story that cast light on the strange and tremendously costly imbrication of public health and partisan politics," Green said.