National Endowment for the Humanities announces $14.6 million in awards
Tuesday, December 17, 2013 - 15:12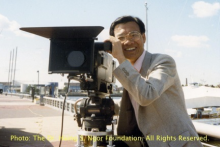 The National Endowment for the Humanities (NEH) announced $14.6 million in award offers for 202 humanities projects, including $475,840 in production funds for Arthur Dong's "The Killing Fields of Dr. Haing S. Ngor," a full-length documentary covering the periods before, during, and after the Khmer Rouge's tyrannical rule over Cambodia as seen through the eyes of Dr. Haing S. Ngor. The Cambodian physician escaped to America and recreated his experiences in The Killing Fields, winning an Oscar® for his first film. He became the de facto worldwide ambassador for truth and justice in his homeland, only to be gunned down in Chinatown Los Angeles – a case still muddled with transnational conspiracy theories. The film will be produced and directed by SFSU Alum, Arthur Dong, and is based on Ngor's autobiography, "Survival in the Killing Fields," written by Haing S. Ngor with Roger Warner.
"The National Endowment for the Humanities is proud to fund the nation's finest humanities projects," said NEH Deputy Chairman Carole Watson. Dong added, "This award, along with previous support, encourages us to acknowledge that Dr. Ngor's story is timeless and a chapter of contemporary history that speaks to us today. The NEH grant will bring our documentary to completion – we plan to finish up by the end of 2014!"
NEH funds for "The Killing Fields of Dr. Haing S. Ngor" was awarded under the Bridging Cultures Through Film Grants initiative, which supports the development and production of documentary films that examine international and transnatioinal themes in the humanities. The project has also received funding from Cal Humanities, the Sundance Institute Documentary Film Program and Fund/John D. and Catherine T. MacArthur Foundation Initiative, the Center for Cultural Innovation Investing in Artist Grant, and a previous NEH Bridging Cultures through Film research and development grant. Additional support has been provided by sponsors the Center for Asian American Media and The Dr. Haing S. Ngor Foundation.
For more on "The Killing Fields of Dr. Haing S. Ngor," please visit:
http://haingngorfilm.com
https://www.facebook.com/HaingNgorDocumentary
NEH press release: http://www.neh.gov/news/press-release/2013-12-02
Complete state-by-state listings of grants are available here (45-page PDF): http://www.neh.gov/files/press-release/december2013statebystate.pdf