New Course for Fall 2017: CINE 521 Media Archaeologies
Thursday, August 10, 2017 - 14:13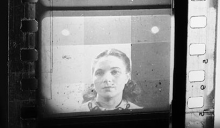 In this new, hands-on postproduction course, students will explore and create cinema from archival and found sources. The Bay Area is a global center of creative re-use cinema - the home of Archive.org, the Prelinger Archives, and Stephen Parr's Oddball Cinema, as well as screening venues at the SF MOMA, Berkeley Art Museum, and Yerba Buena Center for the Arts. We will make forays into the digital and analogue trove of material, and then make films! Public final screening at the end of the semester.
Topics covered: Finding high quality archival material Transferring analogue materials The challenge of reframing original meanings of found film and sound The Slash/mash-up tradition Classic and new films/filmmakers that use this technique Grappling with the concepts of history and information
The course is an excellent way to learn/improve Premier and AfterEffects, regardless of your current level of experience/expertise.​ Open to Undergrad and Grad Cinema Majors Prerequisite: CINE 310
Greta Snider
Professor of Cinema
San Francisco State University
1600 Holloway Ave.
San Francisco, CA 94132