Opportunity for film and media students to land a paid gig
Tuesday, January 16, 2018 - 15:38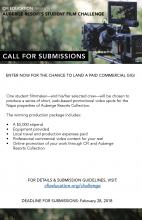 CFI EDUCATION Presents AUBERGE RESORT STUDENT FILM CHALLENGE
CALL FOR SUBMISSIONS
ENTER NOW FOR THE CHANCE TO LAND A PAID COMMERCIAL GIG!
One student filmmaker - and his/her selected crew - will be chosen to produce a series of short, web-based promotional video spots for the Napa properties of Auberge Resort Collection.
The winning production package includes:
A $5,000 stipend
Equipment provided
Local travel and production expenses paid
Professional commercial video content for your reel
Online promotion of your work through CFI and Auberge Resorts Collection.
FOR DETAILS & SUBMISSION GUIDELINES, VISIT:
cfieducation.org/challenge
DEADLINE FOR SUBMISSION: February 28, 2018