The School of Cinema Mourns the loss of Visionary Cinema Legend and Alumna Barbara Hammer (1939-2019)
Monday, March 18, 2019 - 13:36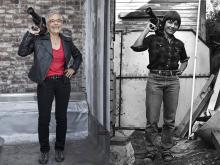 Barbara Hammer (MA, 1975) was a pioneer of avant-garde cinema, and a powerful expressive lesbian feminist voice in film. Hammer's prolific body of films (over 70 short and feature works) have delighted and provoked audiences for decades, and have carved out an enduring space for diverse perspectives and forms of art. Hammer's sharp wit, zest for life, and delicate observations will be missed. Fortunately, Hammer's legacy remain as a generous inspiration to future generations.  
Barbara Hammer was honored in Spring of 2017 by the School of Cinema, with the inauguration of the Barbara Hammer Awards, to support completion of student films with LGBTQ themes.  
(photo by Susan Wides, from barbarahammer.com)  
Greta Snider

Professor of Cinema
San Francisco State University

1600 Holloway Ave.

San Francisco, CA 94132