The School of Cinema is offering a newly developed international documentary summer program taken place in Bologna, Italy from July 15 to August 12, 2017.
Friday, March 3, 2017 - 20:13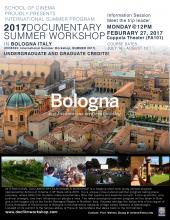 THE INTERNATIONAL DOCUMENTARY FILM SUMMER WORKSHOP is a flagship faculty-led short-term study abroad program sponsored by the School of Cinema at SF State since 2010. It is a unique cross-cultural summer program taken place in overseas, where SFSU film students make documentary films that explore and examine cultural, social-economic, and political changes, and their influences on people's lives.
The newly developed summer program will take place in Bologna, Italy. Situated amongs the Italian hills of the region of Emilia Romagna of the province of Bologna is the marvelous medieval village called Abbazia di Monteveglio. Located on its summit is the famous abbey of Pieve di Santa Maria that dates back to the XIII Century. The international Documentary Film Workshop will take place in the Abbazioa di Monteveglio. The real-life characters that one would encounter in Monteveglio are richly captivating and dream-like, similar to those found in Fellini films. Overall, it would be an ideal environment to cultivate a documentary film.
Classes will be conducted in English with support of language, culture and production assistance from local community. SFSU students will take CINE 532: International Documentary Workshop and receive 6 units of credits.
TO APPLY ONLINE: https://goo.gl/forms/1p49MNUG3nA0IzaK2
Application deadline: MARCH 6, 2017
Fees: Tuition for 6 credits plus Round trip airfare. NO Program Fee
Lodging, meal and local transportation: Approx. $1250
Prerequisite: CINE 310 with C or above; open to both undergraduate and graduate students
CONTACT trip leader and instructor: Prof. Weimin Zhang at weimin@sfsu.edu Trip Coordinator and Teaching Assistant: Pietro Pinto at piepinto6@gmail.com @gmail.com>@sfsu.edu>