SFFILM Volunteer Opportunities
Wednesday, March 14, 2018 - 12:53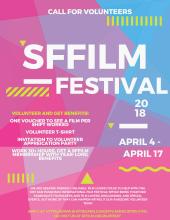 Attn Cinema Students:
Volunteer opportunities for the San Francisco International Film Festival below. This year the festival will be held Wednesday, April 4 - Tuesday, April 17.
Volunteers help with a variety of tasks, such as ushering and taking tickets in the theaters, ticket distribution and will call, and balloting among a variety of others. In exchange, volunteers will receive vouchers to see films (along with many other benefits) and the opportunity to learn more about how our festival works. The application process is very simple and I've included the link below. Please let me know if you think your students or anyone from your organization would be interested in volunteering at the festival and if there's anything that we can do to make the experience more valuable for your group of students specifically.
https://www.shiftboard.com/sffilm/register.html