SFSU Cinema Department's Cheryl Dunye's film, "Black is Blue" is discussed in the media.
Thursday, June 5, 2014 - 12:02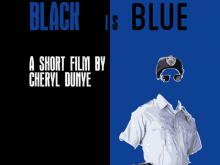 Check out Black is Blue, a film by SFSU's Cheryl Dunye, starring Kingston Farady and produced by Marc Smolowitz.
Directed by award-winning filmmaker Cheryl Dunye, Black is Blue is a short narrative that tells the story of Black — an African American Trans man, who works as a security guard inside an apartment complex in present day Oakland, California. With limited dialogue and a focus on character, the film quietly follows Black over the course of his typical day, a journey that reveals how Black's past life is always in the back of his mind. Before transitioning, Black lived as Blue, a queer woman-of color who knew how to stand up for herself. In Black's new vulnerable world, presenting as a masculine Black man comes with all kinds of special concerns. Daily life is never free of fear and stigma. Being caught or discovered as Trans … this is definitely something to avoid.