Visiting Artist Keith Evans - February 1, 6PM in Coppola Theatre
Friday, February 1, 2019 - 18:00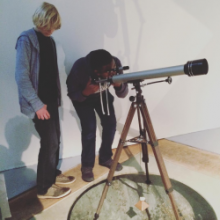 Dear Folks,
Every February, SFSU hosts a series of Experimental Masters Visiting Artists. This year, our first visitor is Bay Area cinema artist Keith Evans, Friday Feb 1 at 6:00 pm in the historic Coppola Theater.
Keith Evans makes films, performances, and installations that bridge the space between cinema and sculpture. His works include whimsically repurposed items, like turntables and telescopes. Film becomes reframed as one element in combination with music, movement, and constructed tableaus. Evans' creations frequently explore ideas of nature, science, and history. 
Much of Evans' work belongs to the genre of "performance cinema" described as "an exciting and emergent genre of avant-garde moving-image art … arguing for the embodied, collective consideration of real-time, site-specific media experiences. … Performance Cinema practitioners create immersive spectacles of sight and sound, opening a space for questioning and contemplating visual culture through direct activation of the senses." (Gray Area, 2016)
Evans has been featured in galleries, museums and cinemas in Asia, Europe, Australia and North America, including NYMOMA, CMA, SFMOMA, LACMA and the Whitney Biennial.
A short clip of "Lenticle to the Sun," a recent installation that used cinema viewed from a telescope:
https://www.instagram.com/p/BDHT9aBLrjT/
I hope to see you there!
Greta Snider
Professor of Cinema
San Francisco State University
1600 Holloway Ave.
San Francisco, CA 94132