Aaron Kerner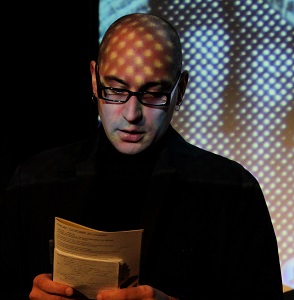 Professor
Director of the School of Cinema
Building: Fine Arts
Room Number: FA 245A
Additional Contact Information: 
office hour appointment via email
Biography
Professor Kerner has taught in the SFSU Cinema Department since 2003; prior to this he was a lecturer in the History of Art and Visual Culture Department at UC Santa Cruz. He was the recipient of, among other things, an NEA grant for his exhibition Reconstructing Memories (2006). In 2011 he published Film and the Holocaust (Continuum) – an extensive survey of narrative, documentary and experimental representations of the Holocaust. He is currently working on a range of subjects in and around the concept of ugliness and disgust (e.g., Torture Porn, Butoh and cinema).
Education:
Ph.D., Macquarie University, Sydney, Australia
M.A., University of Leeds, England
B.A., University of California, Santa Cruz
Selected Publications & Filmography: 
"The Alpha and the Omega: The Work of Katsuhige Nakahashi," Camerawork vol. 34, no. 2: 7-14, (Fall 2007).
"The Depth of Memory: An Interview with Katsushige Nakahashi," trans. Shoko Okuda, Camerawork vol. 34, no. 2: 21-27, (Fall 2007).
Representing the Catastrophic (Lewiston, NY: Edwin Mellen Press, 2007).
Reconstructing Memories, exhibition catalogue (Honolulu: University of Hawaii, Art Gallery, 2006).
"Of Child's Play and the Japanese Catastrophic Imagination: Katsushige Nakahashi's Zero Project and On the Day Project – Runit Dome," in Nakahashi Katsushige: ZEROS - Interacting Memories, exhibition catalogue (Tokyo: Asahi, 2006), 54 – 84.
"Gojira vs. Godzilla: Catastrophic Allegories," in Mark Franko, ed. Ritual and Event: interdisciplinary perspectives (New York: Routledge, 2006), 109 – 124.
"Hideaki Anno's Love and Pop: Enjo-kosai and the Shojo Economy," in Masami Toku, ed. Shojo Manga: Girl Power! Girls' Comics from Japan, exhibition catalogue (Chico, CA: Flume Press at Chico State University, 2005): 32 – 35.
Angela Kelly and Aaron Kerner, "The Scent of Positive Lives: (Re)Memorializing Our Loved Ones," Qualitative Inquiry vol. 10, no. 5 (October 2004): 767-787.
Aaron Kerner, "What's Real About It? Adolescent Female Sexuality in Thirteen," American Sexuality magazine vol. 3, no. 4 (August 2005).