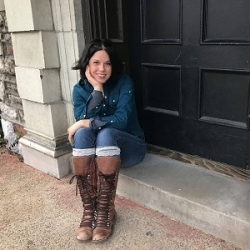 Katharine Mahalic
Lecturer Faculty
Email: kmahalic@sfsu.edu
Office Hours:
Tue:
3:45 pm - 4:45 pm
Email for appointment
Biography
Katharine Mahalic is a filmmaker and film lecturer. She holds an M.F.A. in Film and Video from Columbia College, Chicago, and a B.A. in Humanities from Michigan State University. She also studied documentary at the British Film Institute in London.
Her feature film, Welcome to Unity, was distributed through Cow Lamp Films and Questar Inc. and was released on Amazon Prime in 2018. Welcome to Unity has won several awards, including the1st Place Jury Award and the Children's Jury Award at the Chicago Children's International Film Festival in 2015. Her 2011 short "The Vacuum Kid" also received numerous awards and was distributed through HD shorts.
In addition to several award-winning documentaries and fiction short narratives, she has taught film production at several colleges and universities, including Columbia College Chicago, The Art Institute of Illinois, Chicago, and Washington University in St. Louis. She has over 13 years of experience teaching at the college and university level and also teaches English as a second language to both children and adults.
While finishing Welcome to Unity, Mahalia worked on an alpaca farm in Missouri. Shortly after, she traveled to the Amazon, as well as other parts of Colombia, while doing research for a youth-driven educational series focused on Colombian and South American culture.
She is the founder and director of More Than Just Films, a program that offers filmmaking workshops that not only teach filmmaking to kids but also help promote diversity, social tolerance, and anti-bullying environments. Mahalia has been facilitating filmmaking workshops for youth since launching a pilot program at an orphanage in Río Dulce, Guatemala in 2009.
Mahalia has extensive professional experience, encompassing work not only in the independent film arena, but also in commercials, news programming, distribution, and television.