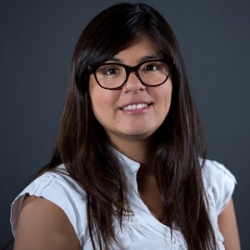 Elizabeth Ramirez-Soto
Assistant Professor and M.A. Coordinator
Phone: (415) 405-3414
Email: eramirezsoto@sfsu.edu
Location: Fine Arts Building Room 415
Office Hours:
Wed:
11:00 am - 1:00 pm
By Appointment
Office hours by appointment via zoom
Zoom Link
Biography
Elizabeth Ramírez Soto is Assistant Professor in the School of Cinema at San Francisco State University, where she teaches documentary film and Latin American cinema. Focusing on questions of cultural memory, affect, non-fiction cinema, and transnational film practices, her work has appeared in journals such as Rethinking History: The Journal of Theory and Practice, Quarterly Review of Film and Video, and Journal of Latin American Cultural Studies: Travesia. Her first book, (Un)veiling Bodies: A Trajectory of Chilean post-dictatorship Documentary, is forthcoming by Legenda in the U.K. She is also the coeditor of a volume on women filmmakers in exile titled Nomadías: El cine de Marilú Mallet, Valeria Sarmiento y Angelina Vázquez (Metales Pesados, 2016). Before moving to San Francisco, Elizabeth was based in Valparaíso, Chile, where she completed her postdoctoral research on the transnational productions of Chilean filmmakers in European experimental television.
Education:
Ph.D. University of Warwick, 2014
M.A. Institute of Education, University of London, 2009
B.A. Universidad Diego Portales, 2004
Selected Publications:
(Un)veiling Bodies: A Trajectory of Chilean Post-Dictatorship Documentary. Oxford: Legenda, forthcoming.
" 'Punk' Use of Video in Latin America: Audiovisual Resistance and Rebellious Youth in Chile and Uruguay." Co-authored with Beatriz Tadeo Fuica. Quarterly Review of Film and Video 32:8 (2015): 712-727.
"Travelling Memories: Women's Reminiscences of Displaced Childhood in Chilean Post- dictatorship Documentary." Doing Women's Film History: Reframing Cinemas Past & Future, eds. Christine Gledhill and Julia Knight. Urbana: University of Illinois Press, 2015 (139-150).
"Reflections on the Other Archive on Television: Chilean Fiction Series and Approximations to the Dictatorial Past." New Cinemas: Journal of Contemporary Film 13: 1 (2015): 9-22.
"Journeys of Desexilio: The Bridge between the Past and the Present." Rethinking History: Journal of Theory and Practice 18:3 (2014): 438-451.
"Impertinent Interventions: On Raúl Ruiz and an Emerging Field." Journal of Latin American Cultural Studies: Travesia 21:1 (2012): 49-59.
"Memoria y Desobediencia: una aproximación a los documentales de Carmen Castillo". La Fuga 12 (2011). 
"Estrategias para (no) olvidar: notas sobre dos documentales chilenos de la post- dictadura". Aisthesis 47 (2010): 45-63.