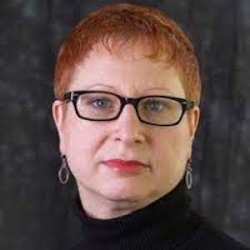 Theresa Geller
Lecturer Faculty
Email: tlgeller@sfsu.edu
Office Hours:
Wed:
2:30 pm - 3:30 pm
Peets Coffee in library and by appt.
Biography
Theresa L. Geller is a lecturer in the School for Cinema and a Scholar-in-Residence with the Beatrice Bain Research Group housed in the Department of Gender and Women's Studies at UC Berkeley. Before relocating to the Bay Area, Dr. Geller served as Associate Professor of Film Theory and History at Grinnell College. In 2015-16, Dr. Geller was awarded a Mellon Research Fellowship at the Whitney Humanities Center at Yale University. Her research spans film and television studies, film philosophy, critical race theory, and feminist and queer theory. 
Education:
Ph.D., Rutgers University
M.A., University of Illinois, Champaign-Urbana 
B.A., University of California, Santa Cruz
Books and Selected Articles
Reframing Todd Haynes: Feminism's Indelible Mark. A Camera Obscura Book (Duke University Press, April 2022). 
The X-Files. TV Milestones Series (Detroit, Wayne State University Press, 2016). 
"The Wages of! W.A.R.: Activist Historiography and the Feminist Art Movement in Lynn Hershman Leeson's!Women Art Revolution." Documenting the Visual Arts. Roger Hallas, editor. UK: Routledge, 2020. 
"Shilling Pennywise: Chump Change in Trump's (Trans)America." Make America Hate Again: Trump-Era Horror and the Politics of Fear. Victoria McCollum, editor. UK: Routledge, 2019. 
"Thinking Sex, Doing Gender, Watching Film." The Anthem Handbook of Screen Theory. Tom Conley and Hunter Vaughan, editors. UK: Anthem Press, 2018. 
"Race and Allegory in Mass Culture: Historicizing The X-Files." American Quarterly 69.1 (March 2017): 93-115.  
"That Magic Box Lies': Queer Theory, Seriality, and American Horror Story," with Anna M. Banker. The Velvet Light Trap 79 (Spring 2017): 36-49.
"Is Film Theory Queer Theory? Or, Everything I Know About Queerness I Learned at the Movies." Camera Obscura: Feminism, Culture, and Media Studies 84 (December 2013): 59-67.
"Trans/Affect, Monstrous Masculinities, and the Sublime Art of Lady Gaga." Lady Gaga and Popular Music: Performing Gender, Fashion, and Culture. Martin Iddon and Melanie L. Marshall, editors. UK: Routledge, 2013. 209-230.