'Art to tell': Marcus Endowed Chair Artel Great views Black cinema from multiple angles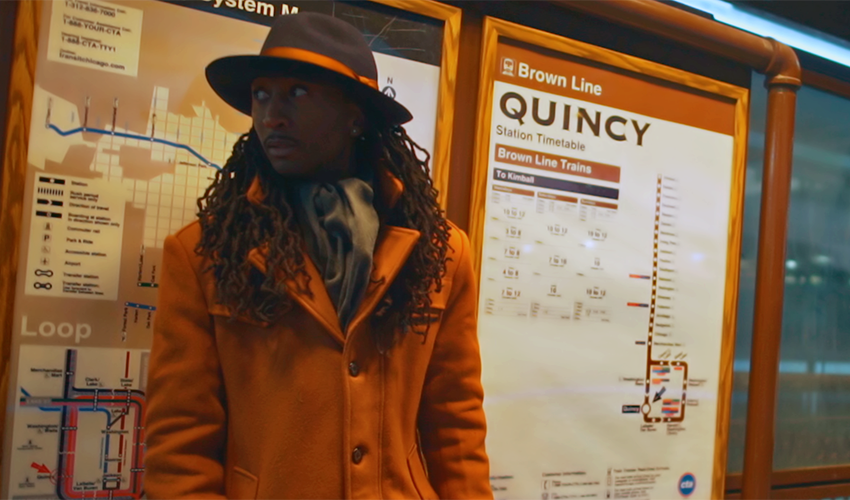 Artel Great stands next to maps in a Chicago train station, in a still from his film "Love Like Winter."
'Black Love Matters' is the mantra for this professor, actor and filmmaker
San Francisco State University Assistant Professor Artel Great views movies from multiple angles: as an Independent Spirit Award-nominated actor, a filmmaker and a scholar.
He joined San Francisco State in 2020 as the first George and Judy Marcus Endowed Chair in African American Cinema Studies, a position created as part of a $25 million donation from alumni George and Judy Marcus.
After graduating from high school at age 15 in Chicago, Great made his film debut in the 1999 teen thriller "Light It Up," followed by "Save the Last Dance." He appeared alongside Halle Barry in "Their Eyes Were Watching God." Great landed an Independent Spirit Award nomination for his supporting role in "Dahmer" before enrolling at UCLA, where he became the first Black valedictorian of the School of Theater, Film and Television.
Now with a Ph.D. from New York University, Great will soon publish an article in the journal Black Camera and a study of the history of Black sketch comedy. The Museum of the African Diaspora tapped him to host a recent lecture series exploring Black film and social change.
What inspired you to want to go from acting to filmmaking and Black film history?
When your mother names you Artel, it's like, "art to tell the world," you know!
I was very much drawn to theatre. From the theatre, that led me to some opportunities that ended up leading to cinema, to film, which wasn't something that was on my radar, to be quite honest. Growing up like I did, in a tough environment, movies were something that you just watched. It wasn't something that you could participate in. …
I didn't even know there was a thing called film school. … Film studies was something we were already doing — just didn't have the language to articulate what we were already practicing.
Tell us about your series of films, "The Love Cycle," and the message of Black Love Matters.
"The Love Cycle" is about being able to address some of the most intractable issues not only facing Black America, but Black filmmakers as well. Unfortunately, we find within the framework of Hollywood and the film industry at large that there is this fascination, sadly, with Black suffering and Black pain and death and trauma. And we see these types of images of Black suffering or depravity recycled over and over and over, seemingly ad nauseum. ...
What I decided to do as a filmmaker was to push back and actually disrupt these cultural politics that are bound up in the dominant Hollywood industry. … I'm interested in, through "The Love Cycle," in honoring the beauty of Black life. The nuances of Black life. And to do so in a way that focuses in on love and joy, rather than the opposite.
What's your No. 1 tip to students who want to become filmmakers?
Don't wait. Do it. Go for it. Be relentless. Don't take no for an answer. And don't wait around for people to bless you with permission, to anoint you as the one. You are the one.
What made you choose to come to teach at San Francisco State University?
The people. The energy. It's just a vibration. There's a certain sense of worldliness and critical thought that I find within the students at San Francisco State. And that inspires me because it reminds me of myself when I was in that position.
For more about the history of Black film, read "Black Cinema Matters," Professor Great's longform essay in The New Republic.