The School of Cinema offers two minors:
Minor in Cinema and Minor in Animation.
Learning Outcomes
The Minor in Animation's learning objectives strives to enable students to:
Acquire basic skills in the formal and critical analysis of animation (including representations of race, class, gender and sexuality), focused by the analysis of representative works from a range of periods and cultures. 
Gain basic understanding of the relation of animation to other arts, to the development of new technologies, and to the industrial-social basis of domestic and international cultural production. 
Acquire the basic technical skills necessary for cinematic expression with animation.
Develop basic skills in the organization and creation of meaningful form and content in animated works.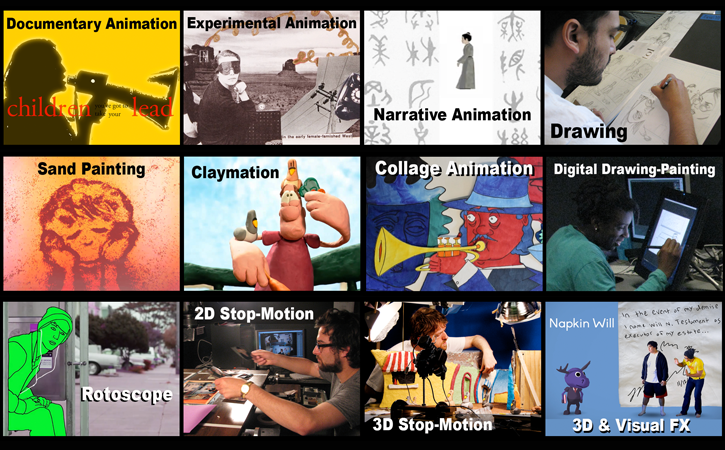 Discover Animation in Different Styles

| | |
| --- | --- |
| Documentary Animation | Collage Animation |
| Experimental Animation | Digital Drawing-Painting |
| Narrative Animation | Rotoscope |
| Drawing | 2D Stop-Motion |
| Sand Painting | 3D Stop-Motion |
| Claymation | 3D & Visual FX |
The Animation Minor is open to all majors. The program is a production emphasis in creative storytelling, social issue documentary and artistic experimentation.
Using techniques like drawing, stop-motion, 2D/3D digital and mixed media, students apply their research to short animated projects. Students gain a foundation in animation principles and methods applicable to fine art, creative, entertainment, industrial, scientific and humanities fields. The Animation Society welcomes all students to the club meetings.
Enrollment in the Animation Minor is limited and requires a portfolio review. Upper-division standing students of any major can apply. Five animation courses totaling 15 units are required. Students must maintain a grade of "C" or better in the required animation classes. It takes two years to complete the animation minor. 
The portfolio review is online in the spring semester (deadline April 20). Students should meet with an animation advisor in fall and prepare their portfolios during their freshmen and sophomore years. Up to 14 students will be admitted after the spring portfolio review; they will receive permits to register for CINE 444 Animation I (3 units). Others with strong portfolios will be wait-listed. All students must upload their application materials (application, portfolio, unofficial transcripts) to SF State Box by April 20.