The Bay Area is a hub of media production and exhibition, and the SF State School of Cinema has a record of placing highly successful interns with a wide range of production, distribution, and exhibition organizations throughout the Bay Area.
Internships can be a vital complement to students' in-class experiences, offering opportunities to observe how media organizations operate, to gain hands-on experience in the field, and to meet and observe working professionals.
Finding Internships
Students interested in obtaining an internship should consult the list of internships on Cinema's Facebook page under Notes. Students serious about securing an internship should check this source often, as new internships are posted frequently. Students may also pursue internships not included on this list. Such internships must be submitted to the internship coordinator for vetting.
View information on internship opportunities in the following categories: 
Archiving/Preservation
Criticism (information coming soon)
Film festivals
Post-production (information coming soon)
Production (information coming soon)
Promotion/Distribution/Exhibition
Applying for Internships
Every internship description includes details on when, how, and to whom to apply. Students desiring assistance with application materials, including resumes, cover letters, etc., can email Professor Bernardi, the current Cinema internship coordinator at: bernardi@sfsu.edu.
School Prerequisites for Internships
To qualify for the internship program, students must:
Be a junior or senior Cinema major or graduate student (exceptions are possible for sophomores)
Have a minimum 3.0 grade-point average in Cinema courses and a 2.5 GPA overall
Receiving Academic Credit for Internships
To receive academic credit for internships, students must:
Submit a copy of their unofficial transcript verifying their GPA to the internship coordinator
Submit a completed Internship Contract (PDF) to the internship coordinator.  This form can be found on the Forms page
Complete a minimum of 120 hours for 3 units of academic credit
Submit bi-weekly reports on their internship experience to the internship coordinator, as specified in the syllabus for the course.  This form can be found on the Forms
Verify that their internship supervisor has returned the Internship Evaluation (PDF) to the internship coordinator at the end of the semester
Student Eligibility Requirements
All students must possess a minimum GPA of 2.5.
Only Junior, Senior, or Graduate Students are eligible.
Internship Criteria
Prior approval from the Internship Coordinator is mandatory for all internships.
The primary considerations for internship approval are student learning and safety.
Internships should be associated with reputable companies engaged in the various facets of film and media such as pre-production, production, post-production, distribution, marketing, or study.
The designated internship supervisor must be an experienced professional who is both willing and competent to mentor the student in practical learning.
While internships can be paid, such opportunities are rare. Nevertheless, students can obtain both academic credit and a stipend from their internship.
Students are allowed to retake the Internship class, subject to the approval of the Internship Coordinator.
A maximum of nine individual study units (e.g., independent study, practicum,  internships, etc.) can be applied towards the student's degree.
Administrative Procedures
Upon approval, both the intern and the internship supervisor are required to sign a formal agreement.
Once enrolled in the Cinema internship course, students are mandated to submit Bi-Weekly Internship Reports to the Internship Coordinator.
Course Grading Criteria
Completion of a total of 135 hours.
Submission of 6 approved and graded Bi-Weekly Reports.
A positive evaluation from the internship supervisor.
The Animation Society
The Animation Society serves as a resource for animation students from across the SF State campus. We support screenings, workshops, and other events including the Animation Finals. The group also helps the Animation students navigate all the sources on campus, in the School of Cinema, and in the Bay Area for aspiring animators.
For more information about the Animation Society club email: animationsocietyatsfsuofficial@gmail.com
Black Film Club
The purpose of the Black Film Club is to expand the visibility of black-oriented films and filmmakers at SF State; highlight the contributions of professional black screenwriters, directors, cinematographers, and other film professionals to the cinematic art form; provide a support circle for student film projects in any state of production (screenwriting, principal photography, editing, etc.) that depict black experiences and/or thematically draw upon black perspectives; to render film production services (paid and unpaid) for real-world clients and organizations who have demonstrated support of black upliftment.
For more information email: Blackfilmclub.at.sfstate@gmail.com
The Cinema Collective
The Cinema Collective is an SF State student organization housed in the School of Cinema. The Collective exists to help everyone interested in the art, not just cinema majors, become better filmmakers. Their goal is to work together, learn from each other, and maintain a flourishing community around our campus dedicated to producing quality films.
For more information email: cinemacollectiveatsfsu@gmail.com
The Cinema Studies Graduate Student Association
The Cinema Studies Graduate Student Association (CSGSA) is a resource for aspiring film scholars and filmmakers that cultivates a stimulating environment centered in all aspects of cinema.
Delta Kappa Alpha - SF State University
The Epsilon colony of Delta Kappa Alpha has been a resource to San Francisco State University since 2010. Delta Kappa Alpha (DKA) is a co-ed cinema fraternity with the mission to engage the community philanthropically, socially, and professionally as well as create meaningful connections between students and professionals.
Feminist Filmmaker Fellowship
The Feminist Filmmaker Fellowship (F3) provides equitable opportunities for women and disenfranchised filmmakers from San Francisco State University to be involved in the media industry.
For more information email: F3sfsu@gmail.com
Latino/a/x Film Club
The club's purpose is to advance your resume, build connections, and attract potential employers/press. It also will focus on Latino/a/x Film History. The Club's mission is to empower underrepresented groups. It welcomes people of all backgrounds.
For more information email: latinoaxFilmClub@gmail.com
Follow in Instagram @ LTNXFC
Queer Cinema Coalition
Queer Cinema Coalition ensures a safe and creative space for LGBTQ+ filmmakers on campus to learn how to make their mark in an industry that doesn't prioritize their voices. Through guest speakers, screenings/discussions, and community organizing, we build life-long connections to help us survive and thrive as filmmakers at SF State University and beyond.
For more information email: qccsfsu@gmail.com or visit their Instagram page.
What can you do with a degree in Cinema?
The vast majority of Cinema graduates will change professions several times in their working lifetime; many will move in, out and within an expanding and ever-changing film and media industry. In order to best equip our students to meet these challenges, we prepare them for a host of professions by emphasizing creative and critical thinking, writing and public speaking, and knowledge of diverse cultural forms of expression. We also believe that students should complement their classroom knowledge with practical experience gained through an internship. Our program helps to provide this opportunity, offering internships in San Francisco, Los Angeles, New York, and beyond to connect students with mentors in film, television and digital media.
Many students ask what professions they might enter upon graduating from the School of Cinema. The list below provides some suggestions for students and is organized by the main pathways you might pursue as a Cinema major:
Animation
2D animator  
2D or 3D Character animator  
Key frame animator  
Clean-up artist  
2D or 3D animator background artist  
Digital ink & paint artist  
Storyboard, concept, visual development artist  
Layout artist  
3D lighting artist, modeler, rendering artist, rigging artist, texture artist  
Video game designer, artist  
Visual effects, compositing artist  
Motion graphics animator, artist  
Stop motion animator, sculptor and artist  
Animation story writer
Media and Culture
Film and Media Educator
Film and Television Archivist
Film and TV Critic/Journalist
Film and Media Preservationist
Graduate School (M.A., M.F.A. or Ph.D.)
Media Arts Organizer
Media Relations
Advertising Consultant
Media Researcher
Multimedia Development/Producer
Production Assistant
Radio/Television Commentator
Filmmaking
Documentary Filmmaker
Narrative Director
Film Producer
Assistant Director
Cinematographer
Gaffer/Grip
Continuity Supervisor
Art Director
Production Sound Mixer
Picture Editor
Sound Editor
Post Sounds Mixer
Color Grader
Filmmaking Instructor
Film Festival Curator
Screenwriting
Creative Executive
Graduate School (Production)
Literary Agent
Manager
Producer
Screenwriter
Story Analyst
Story Editor
Television Writer
Video Game Writer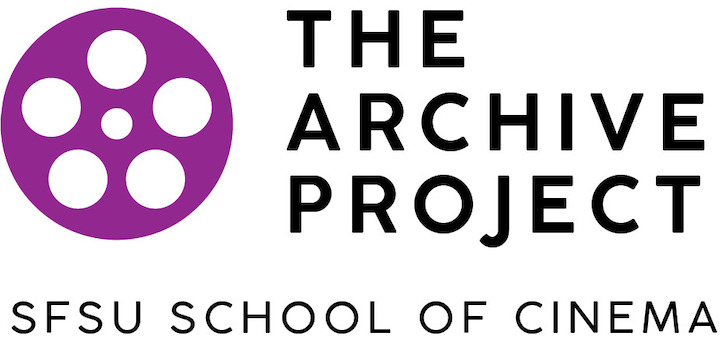 The Archive Project
Past Events:
What A Rabbit Taught Me: EMIKO OMORI & The Authentic Voice 
Tues, Aug 31, 6 p.m.
SF State Cinema alumna and Emmy-winning filmmaker EMIKO OMORI, in conversation with Cinema Professor Pat Jackson and Cinema student Kevin Kodama. Omori discusses her journeys of discovery through her ground-breaking documentaries (Rabbit In the Moon; To Chris Marker, An Unsent Letter; Vanishing Chinatown: The World of The May's Photo Studio), and her award-winning work in cinematography.
Watch the films now on Vimeo
CROSSROADS Festival, Program 6 - this is called moving
Wed., Sept. 22, 7 p.m. 
The Archive Project at SF State is proud to be a community partner for "Program 6 - this is called moving" of the San Francisco Cinematheque's annual CROSSROADS festival. 
Livestream premiere on Wednesday, September 22 at 7 p.m. PST. 
The films are available to watch thru October 21 on the Cinematheque's website.
New Directions in Online Screenings with INNEY PRAKASH of Prismatic Ground Festival 
Tues, Oct 12, 6 p.m.
During the pandemic, film festivals pivoted from in-person to online platforms. Join us for a special conversation with the founder/curator of the new Prismatic Ground Festival, Inney Prakash, who will discuss the challenges AND possibilities of online screenings. Read more about the festival origins.
A Conversation with the BAY AREA LESBIAN ARCHIVES (BALA) 
Tues, Nov. 16, 6 p.m.
Gems from the SF State Cinema Vault: Programmer & Filmmaker CRAIG BALDWIN Projects in Coppola Theater 
Tues, Dec 7, 6 p.m.