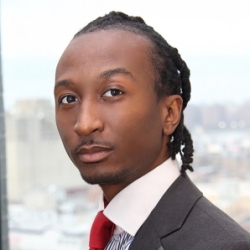 Artel Great
Assistant Professor
George and Judy Marcus Endowed Chair in African American Cinema Studies
Email: artelgreat@sfsu.edu
Location: Fine Arts Building Room 431
Office Hours:
Thu:
2:00 p.m. - 3:00 p.m.
or by appointment
Email for office hours appointment.
Biography
Dr. Artel Great is the George and Judy Marcus Endowed Chair in African-American Cinema and Assistant Professor of Critical Studies in the San Francisco State University School of Cinema. An Independent Spirit Award-nominated filmmaker, film scholar, Black cinema historian, thought leader, cultural critic, and media commentator, Dr. Artel Great is an intellectual and creative force who transcends boundaries and defies conventional categorization. His publically-engaged scholarship contributes to the production of knowledge in Black cinema and visual culture and Black cultural theory. His research explores the phenomenology of Blackness and the political, aesthetic, and cultural history of Black cinema and its critical discourses within the American context and across the African Diaspora.  Dr.Great is, alongside Dr. Ed Guerrero, co-editor and contributing author of the forthcoming anthology Black Cinema and Visual Culture: Art and Politics in the Twenty-First Century (London: Routledge, 2021). His current book manuscript examines politically-charged Black-American humor, and its resistant philosophies, as a critical site for the contestation of systemic racism and entrenched power structures.
Dr. Great earned his PhD at NYU Tisch School of the Arts, and he is the first Black valedictorian at the UCLA School of Theater, Film, and Television, where he graduated summa cum laude.
As an artist and filmmaker, Dr. Great's socially-engaged creative praxis expands the expressive possibilities of Black life on-screen by uncovering new narratives that decolonize Black images from historically narrow depictions. His critically-informed cinematic art seeks to activate a Black film grammar that engages the beauty, complexity, and nuances of the Black-life-world with a social depth that is, at once, both poetic and political. His feature film directorial debut, Love Like Winter (2020), is an official selection at national and international film festivals, and represents part one of "The Love Cycle," a film tetralogy written and directed by Dr. Great that impressionistically declares #BlackLoveMatters.
Dr. Artel Great is also a Fellow at the Cinema Research Institute in Manhattan, where he created Project Catalyst, the first-ever mobile entertainment app that specializes in streaming alternative film and media content created by and for global communities of color. He has held academic positions at NYU, University of North Carolina, and Spelman College. He was recently named a Finalist for the Sundance Episodic Lab (2020), and his work has appeared in popular publications such as the New York Times, CNN, and USA Today. His films have screened worldwide in major multiplexes, art-house theaters, and museums, as well as on Netflix, cable, and broadcast television. For more information and media inquiries, visit Artel Great's website.
EDUCATION
• Ph.D., Cinema Studies - New York University
• M.A., Cinema and Media Studies - University of California, Los Angeles
• B.A., Film and Television Production - University of California, Los Angeles
RESEARCH INTEREST
Black cinema and visual culture; American film history; race, sports, and popular culture; subversive comedy and humor studies; Black history and social movements; television history and digital cultures; cinemas of the African Diaspora; race and difference in Hollywood; Black stardom; hip-hop culture and aesthetics; curatorial work; cultural politics and creative activism
SELECTED FEATURE FILMOGRAPHY
• Love Walks In (writer/director, forthcoming 2021)
• Love Like Winter (writer/director, 2020)
SELECTED PUBLICATIONS
• Black Cinema and Visual Culture: Art and Politics in the Twenty-First Century
(co-editors Great and Guerrero, Routledge, forthcoming 2021). 
• "The Untold Story of the Wild West's Black Cowboys," CNN (quoted, July 4, 2019). 
• "The Real 'Old Town Road:' Lil Nas X Highlights Black Cowboy Culture Across US," USA Today (quoted, July 30, 2019). 
• "The Compton Cowboys Bring the Yeehaw Agenda to South Los Angeles," Playboy Magazine (quoted, April 28, 2020). 
• "Bring the Payne: The Erasure of the Black Sitcom and the Emergence of Tyler Perry's House of Payne" (From Madea to Media Mogul: Critical Perspectives on Tyler Perry, eds. Russworm, Sheppard & Bowdre, University Press of Mississippi, 2016).