"Black Film Culture" - Cinema Salon Series
Monday, December 06
Event Time
06:00 p.m. - 07:00 p.m.
Overview
We are excited to present a new installment of "Black Film Culture" the cinema salon series created and sponsored by Assistant Professor Artel Great, the George and Judy Marcus Endowed Chair in African-American Cinema Studies. The "Black Film Culture" series engages the rich and diverse terrain of Black moving image practices, scholarship, and critical discourses. Join us on December 6 as we celebrate the independent cinematic voices of the Black women filmmakers with a virtual screening and conversation with Desha Dauchan, award-winning filmmaker and Associate Professor at University of California, Irvine. Professor Dauchan will discuss her career and innovative film work. This event includes a virtual screening of her short films, Covered, Whispers, and Entertainer's Eulogy, which will be available to view on-demand from November 29 until Tuesday, December 7th.
Register for the event.
I look forward to seeing you there,
DR. ARTEL GREAT
George and Judy Marcus
Endowed Chair in African-American Cinema Studies
& Assistant Professor of Critical Studies
San Francisco State University
School of Cinema
Upcoming Events
Tuesday, May 23, 2023
Wednesday, May 24, 2023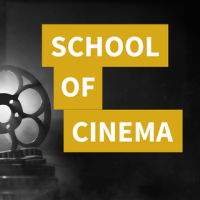 Thursday, May 25, 2023
Friday, May 26, 2023