End of the Year 2021 Showcase
Monday, May 17
Event Time
12:00 p.m. - 09:00 p.m.
Location
Online via Video and Zoom
Contact Email
cinema@sfsu.edu
Overview

Dear Cinema Community, 
The end of the school year is quickly approaching, and we have an amazing lineup of forums and screenings for you all to join! Please see below and the attached poster for the full list of events. 
May 17th from 12-1 p.m. 
Mollye Asher (Producer of the award-winning film by Chloe Zhao Nomadland), Jessica Bruder (Author of Nomadland) 
May 19th from 12-1 p.m.  
Tanya Zimbardo (Curator at San Francisco MOMA) 
May 20th from 12-1 p.m. 
M.A. in Cinema Studies Graduation Celebration 
May 21st from 12-1 p.m. 
Graduate School Advising Forum 
May 28th from 12-1 p.m.
Cinema Valediction Ceremony 
Keynote Speaker: Delroy Lindo
 
YEAR END SCREENINGS:
Monday, May 17 from 7-9 p.m. 
Queer Film Finals 
Wednesday, May 19 from 7-9 p.m. 
CINE 640 Undergraduate Documentary Thesis Screening 
Thursday, May 20 from 6-8 p.m. 
Animation Finals 6-8 p.m. 
Saturday, May 22nd from 6-9 p.m. 
61st Film Finals Showcase and School of Cinema Awards 
Best, 
DJ Chan, 1st Year M.F.A., SF State Cinema 
Event Organizer and Assistant to Director Celine Shimizu 
Upcoming Events
Tuesday, May 23, 2023
Wednesday, May 24, 2023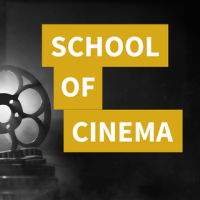 Thursday, May 25, 2023
Friday, May 26, 2023