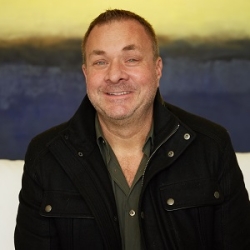 Brian Benson
Lecturer Faculty
Phone: (415) 420-3009
Email: briancbenson01@gmail.com
Location: Fine Arts Building
Email for office hours appointment.
Biography
Brian Benson began his career as an assistant director and line producer working on music videos (Metallica, Sixpence None the Richer) and independent films (GROOVE, BARTLEBY, WILDFLOWERS). In 2000 he produced his first feature film, HAIKU TUNNEL, which was selected for the 2001 Sundance Film Festival where it was acquired by Sony Pictures Classics for distribution. Due to his success with HAIKU TUNNEL and his promise as a producer, Brian received the prestigious Sundance Producer's Fellowship in 2002, where he was mentored by luminaries of the independent film industry: Ted Hope, Ron Yerxa, and Scott Macaulay. In 2002,
Brian attended the Sundance producer's lab attached to DOPAMINE, which premiered in competition at the 2003 Sundance Film Festival and was awarded the Alfred P. Sloan Feature Film Prize. In early 2006, he spent 6 months in Dallas programming the country's first large-scale permanent outdoor digital arts film festival. By the end of 2009, Brian had produced 2 more films: ALL ABOUT EVIL, a dark comedy starring Natasha Lyonne which was purchased by NBC/Universal, and HOWL, a film about Allen Ginsberg's controversial poem. Directed by the Academy Award-winning team Rob Epstein and Jeffrey Friedman, executive produced by Gus Van Sant and starring James Franco, John Hamm, and Mary-Louise Parker, HOWL opened the 2010 Sundance Film Festival.
In 2014, Brian was the First Assistant Director for the Sundance and theatrical hit THE DIARY OF A TEENAGE GIRL starring Kristen Wiig and Alexander Skarsgård. In 2016 with executive producer Carlos Santana, he produced DOLORES, a documentary about civil rights icon Dolores Huerta with interviews by Huerta, Gloria Steinem, Angela Davis, Luis Valdez, and Hillary Clinton. The film premiered in competition at the 2017 Sundance Film Festival and had a successful theatrical run in late 2017 receiving only positive reviews and attaining a 100% rating on Rotten Tomatoes. In April of 2019 DOLORES won a Peabody Award and in August was nominated for an Emmy Award. At the 2018 Sundance Film Festival, he premiered SORRY TO BOTHER YOU for which he served as First Assistant Director and Co-Producer. The film stars Lakeith Stanfield, Armie Hammer, and Tessa Thompson and had a commercial successful theatrical run in the summer of 2018.
Brian has been writing and directing a short award-winning film series for the last decade and his 10th film premiered at the San Francisco International Film Festival in 2019 and is currently on an international festival tour. He is also producing 3 new feature films, writing a musical feature film which he will direct, and teaching a course in Film Production and Financing at San Francisco State University.
Website(s):