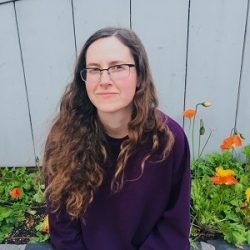 Courtney Fellion
Lecturer Faculty
Email: cfellion@sfsu.edu
Biography
Courtney Fellion (she/her) is a lecturer in the School of Cinema.
Fellion has worked with a variety of arts organizations including Canyon Cinema, the Denver Art Museum, the San Francisco Museum of Modern Art, and the Kramlich Collection in San Francisco. From 2012-2019, she edited the Canyon Cinemazine, an artist-made publication for an experimental film that revisits the Canyon Cinema newsletters of the 1960s. From 2014-2017, she co-organized the HÄXÄN Film Festival for filmmakers exploring psychic and mystic connections through video and film.
Fellion was a participant in Sundance Film Institute's first annual Art House Project Convergence Conference and has presented papers at the University of Chicago, NYU, Chapman University, and the annual Console-ing Passions feminist media conference.
Her research interests include exhibition and distribution formats, zines and print artist ephemera, nostalgia for fictive/virtual places, and the myth of the American West. She is currently researching online and virtual exhibition spaces for experimental media arts. She has been a resident at Signal Culture (NY) and White Leaves Artist Residency (NM).
Since 2012, Fellion has taught classes on film curation at San Francisco State University. She assisted with the launch the Archive Project at SF State in 2020 to encourage research and access to the SF State School of Cinema's sixty years of student and alumni film archives.