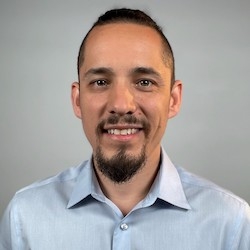 Rafael Flores
Assistant Professor
Email: raflores@sfsu.edu
Location: Fine Arts Building Room 413
Office Hours:
Thu:
10:00 a.m. - 12:00 p.m.
by appointment
Email for office hours appointment.
Biography
Rafael Flores is Phi Beta Kappa Scholar who specializes in Directing, Social Justice Film Production, Chicano Cinema, and Third Cinema. Flores is the Co-founder of Green Eyed Media and Administrative Director for the Hidden GEM Creative Studios, an organization both based in Oakland, CA. His work has been praised by various institutions that include: The White House, The Grammy Foundation, The San Francisco Foundation, The California Endowment, TED-X lecture series, the Cannes International Film Festival, the Writer's Guild Theater of America, the London Guardian, and the Chicano International Film Festival.
Website(s): 
CV:
Rafael Flores - CV_2021.pdf (258.82 KB)
The documents on this website/webpage might not be fully accessible to persons with disabilities. If you experience difficulty in accessing this content, please contact the School of Cinema by email at cinema@sfsu.edu and we will provide you with accessible alternatives.