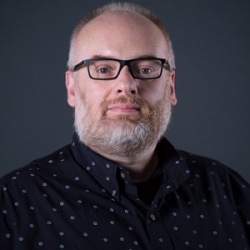 Screenwriting Advisor
Phone: (415) 338-1298
Email: hoxterj@gmail.com
Location: Fine Arts Building Room 341
Office Hours:
Mon:
3:00 p.m. - 5:00 p.m.
by Zoom
I can be emailed to set up Zoom meetings on an ad hoc basis.
Biography
Professor Hoxter is a screenwriter, story consultant, and cinema studies scholar who has published widely on the history and practice of screenwriting and on the contemporary media industries. He is also the Screenwriting Coordinator for the School of Cinema. Professor Hoxter has taught screenwriting, film, media, and cultural studies in the US and UK for many years. A produced screenwriter and a documentary producer, Hoxter's screenplays have also won and been finalists in many screenwriting competitions.
Education:
M.F.A. equivalency, San Francisco State University
University of California, Los Angeles, School of Theater, Film & Television 
M.A., University of East Anglia, Norwich
B.A. Drama &M.A. Film Studies, University of East Anglia, Norwich, England
Books
Julian Hoxter, Write What You Don't Know: An Accessible Manual For Screenwriters (New York: Continuum Books, 2011)

Andrew Horton and Julian Hoxter eds., Screenwriting, (New Brunswick NJ: Rutgers University Press, 2014) A scholarly collection covering the history of Hollywood Screenwriting. A volume in the Behind the Silver Screen series. 

Julian Hoxter, The Pleasures of Structure: Learning Screenwriting Through Case Studies (New York: Bloomsbury Academic, 2015)

Daniel Bernardi and Julian Hoxter, Off The Page: Screenwriting in the Era of Media Convergence (Berkeley: University of California Press, 2017)
Aaron Kerner and Julian Hoxter Theorizing Stupid Media: De-Naturalizing Story Structures in the Cinematic, Televisual, and Video Games, (New York: Palgrave MacMillan, 2019)

Julian Hoxter, The Creative Screenwriter: 12 Rules to Follow—and Break—to Unlock Your Screenwriting Potential, (Emeryville CA: Rockridge Press, 2020)

 
Selected Recent Filmography:
I Totally Disagree With You (dir. James Franco) Hybrid narrative/ documentary feature. Story consultant. 

Seed Money: The Chuck Holmes Story (dir. Mike Stabile) Documentary feature. Story consultant.

Interior Leather Bar. (dir. James Franco & Travis Mathews) Feature. Official Selection, Sundance Film Festival 2013, Berlinale 2013, etc. Story consultant. 2013

I Want Your Love (dir. Travis Mathews) Feature. Official selection: Fringe! Gay Film Festival, London 2012; 2012 Frameline, San Francisco; Cinema Queer International Film Festival Stockholm 2012; 2012 Inside Out, Toronto LGBT Film Festival; 2012 Outfest, Los Angeles Etc. Story consultant. 2012

Imagine a School...Summerhill (dir. William Thyler Smith) Ethnographic documentary feature. Official selection: Asheville Film festival (2008); Featured film: Jersey Shore Film Festival (2009); Kids First! Film Festival (2009); Santa Fe Film Festival (2009); Astra Film Festival, Sibiu Romania (2011), etc. Executive producer, director of photography, 2008. Best Independent Feature, Ages 12-18 2009 (Kids First! Coalition for Quality Children's Media), Special Movies That Matter, Excellence in Filmmaking Award 2009 (Moving Pictures Magazine)