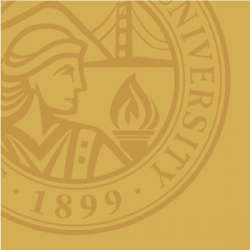 Biography
Margo Kasdan joined the Film Department at SF State in 1978. Brown University awarded her a Ph.D. in French Studies, an unusual designation that encompassed her work in French Literature and Criticism and Film Studies, which informed her dissertation, The Metaphor of Spectacle as an Interpretive Model in Narrative Film.
Dr. Kasdan's first class was called Cinematheque. In it she taught students how to manage a community outreach facility, while also teaching the films on view to the public It was responsible for the annual showing of Film Finals, which showcased the students' work in filmmaking classes. Under her direction, attendance increased so that screenings had to be held in a local movie theater.
Dr. Kasdan organized the films for these public screenings around stars, themes, and genres, and these categories formed the basis of classes she taught and designed: Women in Film, French Film, Film Noir, Critical Studies in Film, The Gangster Film, among many others. For several years, she taught the Cinema section of course on the Decades in the Arts that included Music, Art, and Theatre. She regularly taught Introduction to Film 101, open to students whose varied interests and majors might not otherwise draw them to the study and understanding of film. This led her, in 1988, to write, with her late colleague Professor Christine Saxton, a textbook for that level class: The Critical Eye: An Introduction to Looking at the Movie. Professor Susan Tavernetti, of DeAnza College, subsequently collaborated with her on its next four editions. They then published an article on the western movie Little Big Man, which was revised and included in the anthology, The Hollywood Indian: A Revisionist View, published in 1993. Among her other publications are examinations of Jean-Luc Godard's Alphaville, Hitchcock's Rear Window, and Herbert Biberman's Salt of the Earth.
Dr. Kasdan served for 14 years on the Faculty Affairs Committee of the Academic Senate. She was selected as Department Chair from 1984 to 1987, and returned as Interim Chair in 1996. She was elected President of the San Francisco State Chapter of the California Faculty Association and then Associate Vice-President North of the Statewide CFA.
Dr. Kasdan retired in 2003.