CINE 200: INTRO TO CINEMA AVAILABLE DURING SUMMER 2023
CINE 200: Intro to Cinema is still open for registration and it will be conducted online. This is a required course for all majors and minors.
Summer 2023: June 5 - July 7
Register online or email Professor Daniel Bernardi requesting a permit, bernardi@sfsu.edu
CINE 200: What are the major expressive properties of Cinema? What are the major film movements of the last century and how do they inform Cinema today? What methods might we use when studying film editing, mise-en-scéne, cinematography and sound? What is auteurism, stardom and genre theory?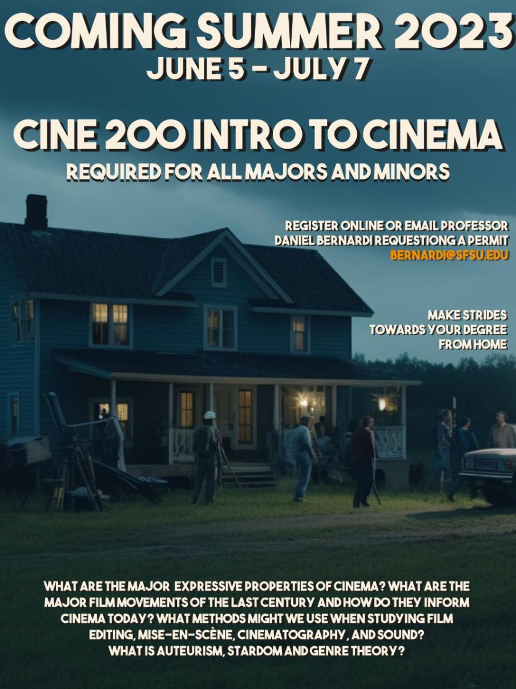 "DOCUMENTARIES RECOGNIZE SACRIFICE, ACHIEVEMENT OF MILITARY WOMEN"
Daniel Bernardi and VDC presents
Army 1st Lt. Jennifer Moreno was killed in Afghanistan almost ten years ago. The San Diego native was trying to help fellow soldiers hurt in a suicide bomb attack. A GI Film Festival documentary looks at the lasting impact of Moreno's death. Military and veterans reporter Andrew Dyer has more.
PROFESSOR MCBRIDE HOSTS A LUBITSCH DOUBLE BILL
Professor Joseph McBride continues his audio commentaries on director Ernst Lubitsch's German silent films with a double bill of The Doll (1919) and I Don't Want to Be a Man (1918), scheduled for release by Kino Lorber on Blu-ray this summer. Both films star Ossi Oswalda, a virtuosic comedian who plays a dual role in The Doll as a sex doll and her human prototype and experiments with daring gender-bending in I Don't Want To Be a Man as a young Berliner who chafes at restrictions on women and goes out on the town dressed as a man.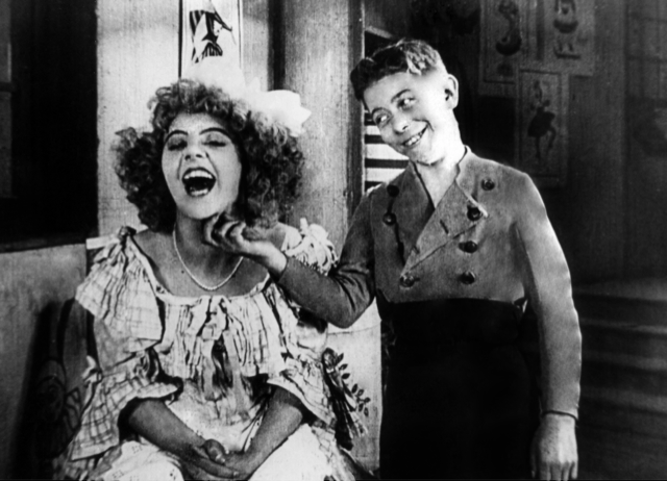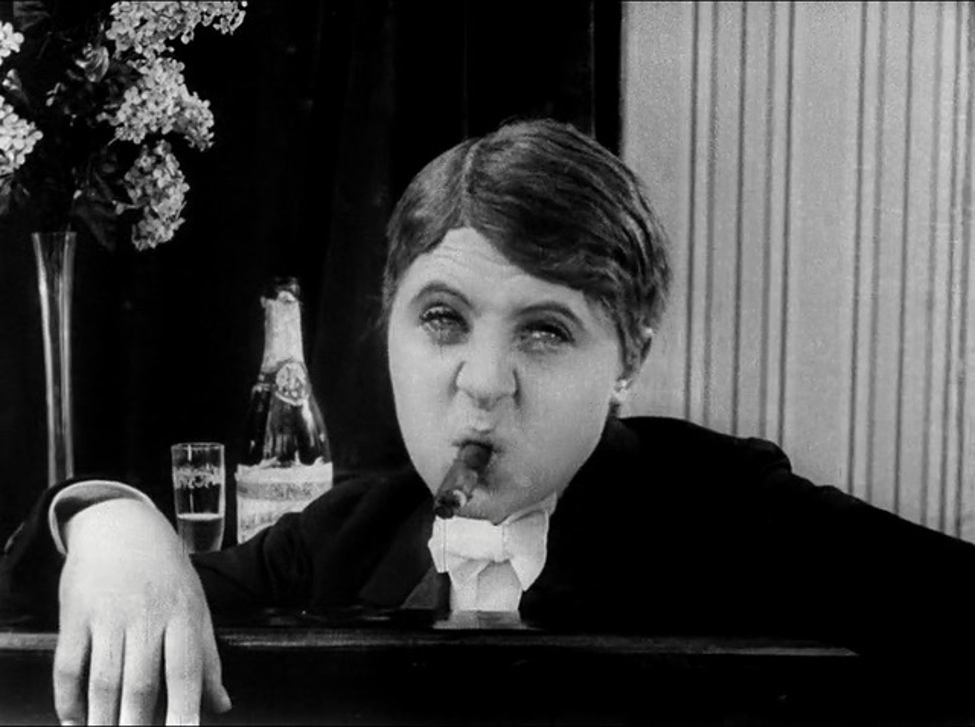 Caption: Ossi Oswalda in I Don't Want To Be a Man.
ASSISTANT PROFESSOR MIHAELA MIHAILOVA PRESENTS "ACTING ALGORITHMS: ANIMATED DEEPFAKE PERFORMANCES IN CONTEMPORARY MEDIA"
Assistant Professor Mihaela Mihailova gave a twenty-minute talk at the annual Society for Cinema and Media Studies conference in Denver, CO, on April 12. Her presentation, titled "Acting Algorithms: Animated Deepfake Performances in Contemporary Media," was based on an upcoming anthology chapter which explores deepfake performances across a variety of contexts, including viral videos, non-consensual pornography, digital artworks, and political activism, paying particular attention to the potential impact of these emerging modes of algorithmically-generated acting on existing labor practices and definitions of creative authorship.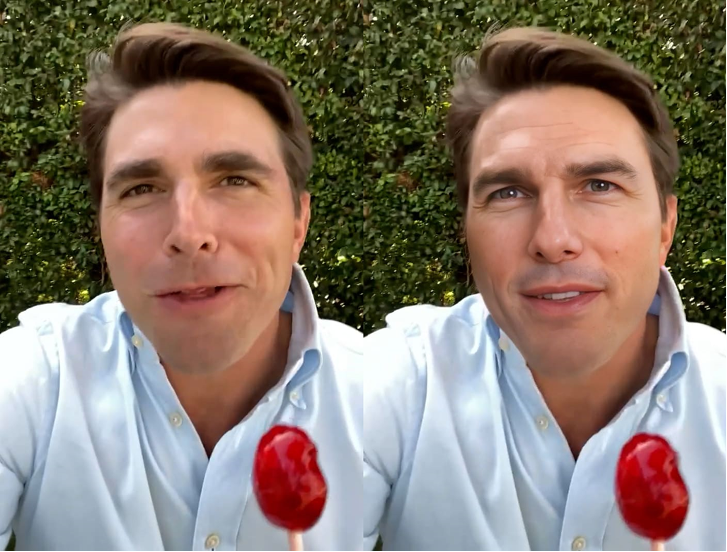 Caption: Deepfake Tom Cruise
JUSTINE KANZLER CREATES "BITE MARK ANALYSIS" FOR CENTER FOR INTEGRITY OF FORENSIC SCIENCES
Senior cinema and animation student, Justine Kanzler, was commissioned by the Center for Integrity of Forensic Sciences to create a video about bite mark analysis—a faulty exercise in forensic science the Center advocates is unreliable evidence in criminal cases. Justine storyboarded, animated, and edited "Bite Mark Analysis" which can be found on the CIFS Justice YouTube channel.
TIMOTHY CAMACLANG DEBUTS "CRYPTID" AT EARTH WEEK FILM FESTIVAL AT SFSU
Senior animation student, Timothy Camaclang, debuted his short animated PSA "Cryptid" on April 20th at the Coppola Theater for the campus' first Earth Week Film Festival.  His piece advocates for the critters one doesn't normally think are impacted by pollution, trash, and other environmental issues, and is a reminder to respect the environment, especially since we may not know exactly who, or what is living there.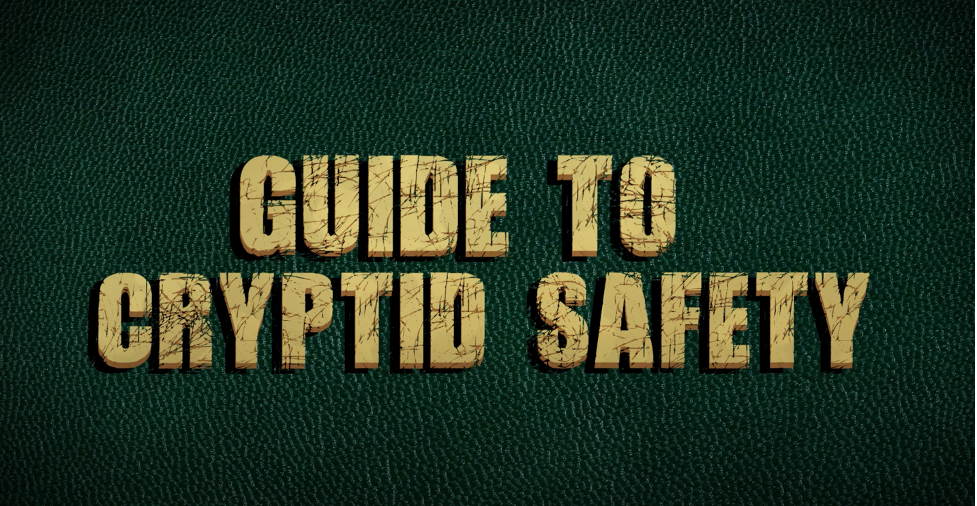 ANIMATION ALUMNUS JOHN FADEFF WINS THE TADAR INTERNATIONAL MQ AIR AWARD
Animation alumnus, John Fadeff, won the Radar International MQ Air Award at the Under the Radar Festival in Vienna, Austria in April.  His short experimental animation, Things Between Other Things, was part of an international interdisciplinary festival and conference for animation, experimental film, media art and connected fields of research and production.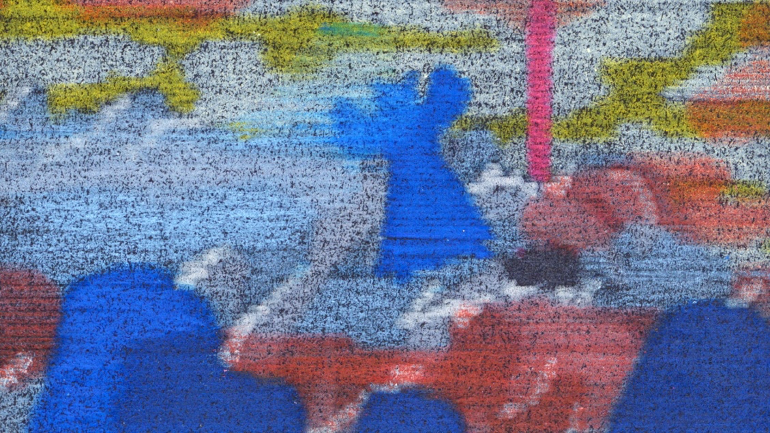 QUEER FILM FINALS PRESENTED AT THE ROXIE THEATER
We are excited to announce that the 4th Annual Queer Film Finals will be held at the Roxie Theater (3117 16th St. San Francisco, CA 94103).
Please join us on Monday, May 15, 2023 from 6:30 - 8:30 p.m. for a screening of works from the 2022-23 Queer Cinema Project Fellows and CINE 494: Queer Cinema Production.
Admission is free and all are welcome. Seating will be on a first come first serve basis. We hope to see you there!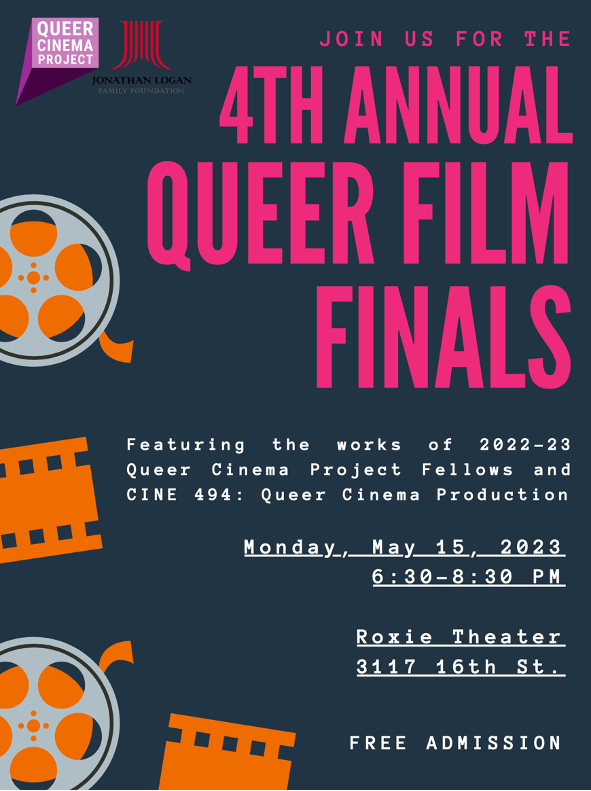 FILM FINALS PRESENTED AT THE ROXIE THEATER
SF State students present:
The 63rd Film Finals: Imagine Through Film
May 16, 5:30 p.m.
Roxie Theater
3117 16th St.
SF, California
Horror, Drama, Comedy, Narrative, Experimental, Animation
Film Finals is an annual event held to showcase the diverse talent at San Francisco State University's School of Cinema. This festival is an opportunity to view the work of local students on the big screen.
Over 60 years of tradition, Film Finals is a night to celebrate cinema.
But most importantly, it showcases the artistic expression and hard work of our students!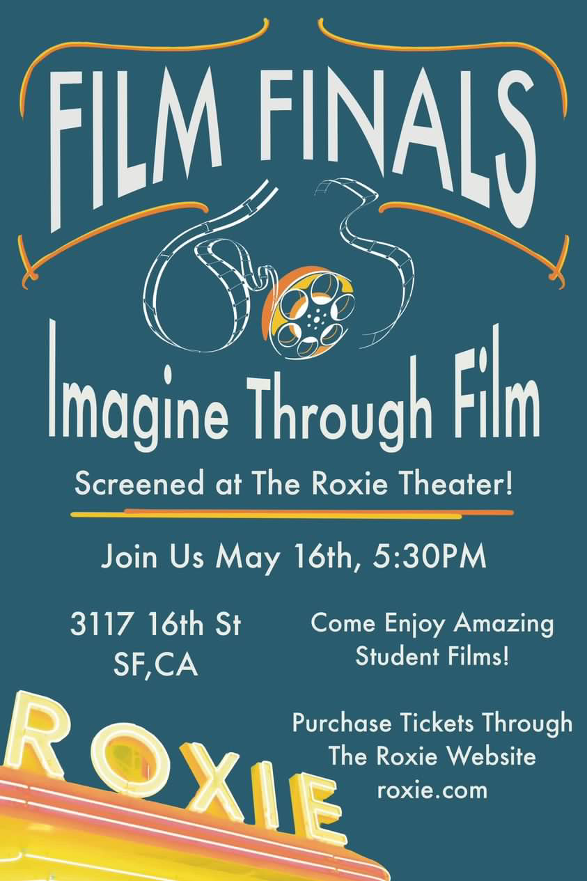 2023 UNDERGRADUATE THESIS FICTION FILMS PRESENTED AT THE COPPOLA THEATRE
Please join us on Thursday, May 18, 2023 from 5:30 p.m. for a screening of 2023 undergraduate thesis fiction films. A reception will be held before the screening at 4:45 p.m.
Coppola Theatre
1600 Holloway Ave
Fine Arts Building, Room 101
San Francisco, CA 94132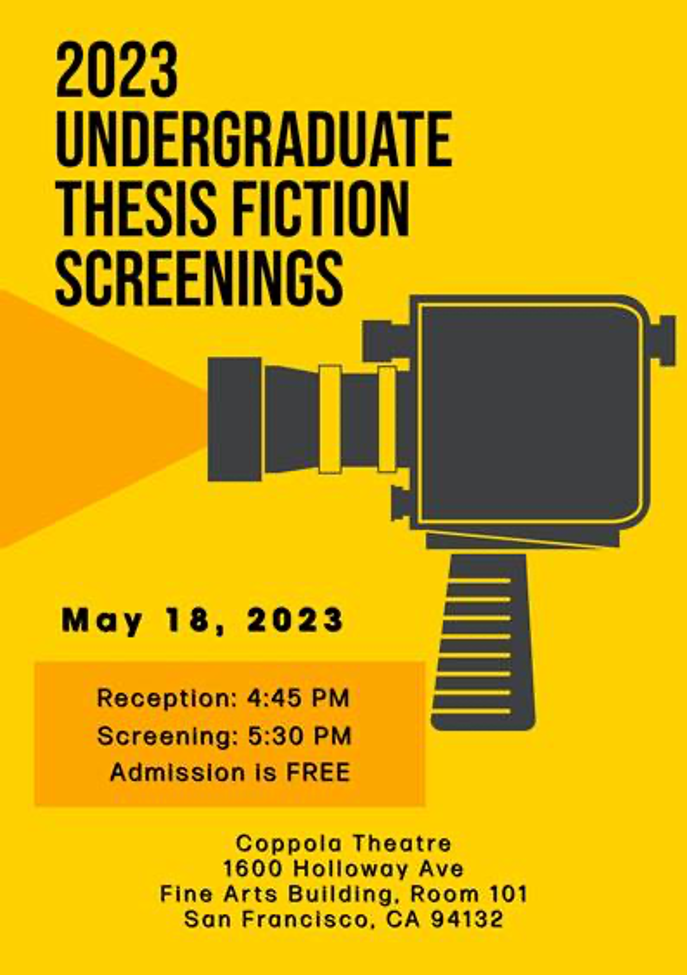 2023 ANIMATION FINALS AT THE COPPOLA
Join us for the Animation Finals, The Animation Zone 2023, at 6 p.m. May 25 in the Coppola Theater (Fine Arts, Room 101).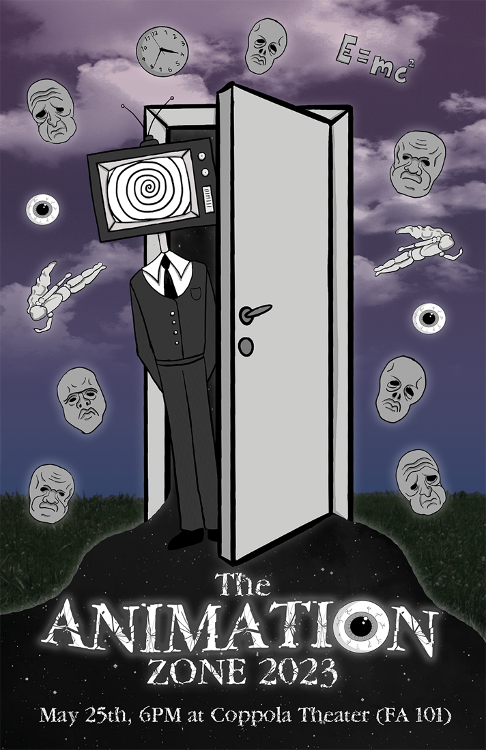 FEMINIST FILMMAKER FELLOWSHIP (F3)
The Feminist Filmmaker Fellowship (F3) aims to provide an open and safe space, virtual or in-person, advocating for womxn and non-binary filmmakers. Our events allow leadership development to flourish by listening to members to help bring their ideas to life. We are close to starting production on our first live-action short film.
Follow us on Instagram @feministfilmmakerfellowship for all our updates and to help us make some films.

JOIN QUEER CINEMA COALITION
Queer Cinema Coalition ensures a safe and creative space for LGBTQ+ filmmakers on campus to learn how to make our mark in an industry that doesn't prioritize our voices. Through guest speakers, screenings/discussions, and community organizing, we build life-long connections to help us survive and thrive as filmmakers at SFSU and beyond.
Follow us on Instagram @queercinemacoalition.


To the School of Cinema,
The School of Cinema has hosted webinars on a myriad of subjects related to our diverse curriculum. All of these webinars are available for viewing on our Vimeo website at the Showcase:
Password: SFSUCinemaEvents
There is something for everyone and we hope you will avail yourselves to these recordings in the coming months.
Drew Luis
SFSU School of Cinema, Tech
SCHOOL OF CINEMA TOUR WITH CINEMA TECHNICAL STAFF
Dear Prospective Students:
The School of Cinema offers in-person tours of our facilities. Please make an appointment by contacting the Cinema Office at cinema@sfsu.edu.
Drew Lewis: SFSU School of Cinema, Tech
Pablo Riquelme: Production Coordinator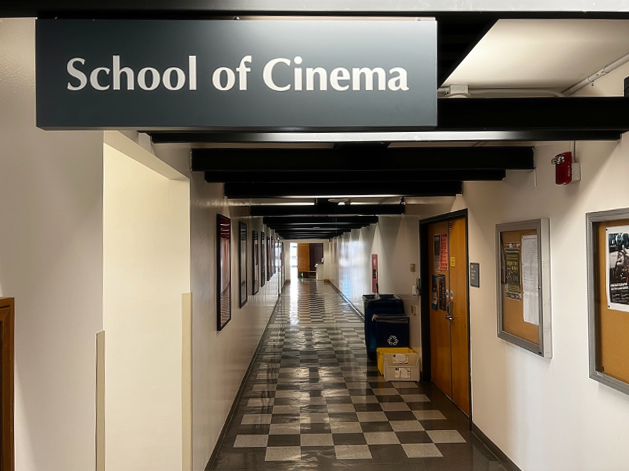 May 15
Queer Film Finals
6:30 – 8:30 p.m.
Roxie Theater
3117 16th St. San Francisco, CA 94103
May 16
Film Finals
5:30 – 8:30 p.m.
Roxie Theater
3117 16th St. San Francisco, CA 94103
May 17
MFA Thesis Film Screening
8:15  – 10 p.m.
Coppola Theatre
May 18
2023 Undergraduate Thesis Fiction Screening
4:45 – 8:30 p.m.
Coppola Theatre
May 25
Animation Finals
6 – 8 p.m.
Coppola Theatre
May 26
Cinema Graduation Convocation
11 a.m. – 1 p.m.
South Side Patio / Deck of Fine Arts Building