ANIMATION & CINEMA STUDENTS AND FACULTY VISIT LUCASFILM IN OCTOBER
On October 19, 2023, Cinema and Animation students experienced a warm welcome to Lucasfilm in the Presidio. First was a tour, then a film showcase, followed by a panel discussion and Q & A. Tour guides and panelists included: Danielle O'Hare, Director, Studio Talent Group; Jessica Chan, Program Manager at ILM; Ronman Ng, Senior Lighting Technical Director for ILMxLAB; and Shawn Kelly, Animation Supervisor at ILMVFX and founder of Animation Mentor. Michelle Phung, Events Specialist at Lucasfilm and Max Hampton, Production Manager at Lucasfilm Animation, are SF State alumni who talked about their paths toward getting a job at Lucasfilm. Students were inspired to meet SF State alumni who have successful careers at Lucasfilm.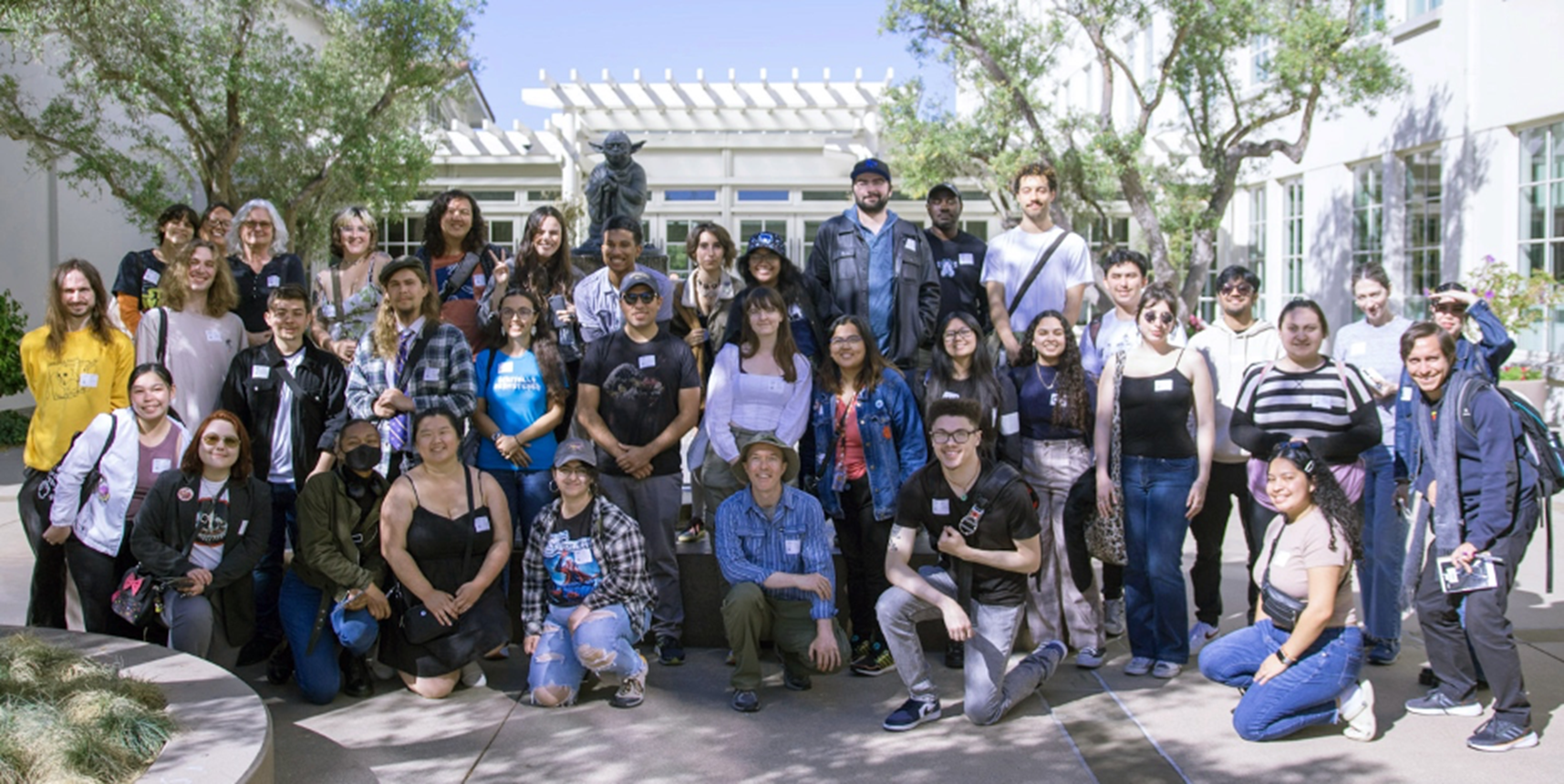 PROFESSOR ZHANG WINS "BEST INTERNATIONAL DOCUMENTARY FILM AWARD" AT SAO PAULO INTERNATIONAL FILM FESTIVAL
The feature documentary film Of Color and Ink, directed and produced by Professor Weimin Zhang, just won the "Best International Documentary Film Award" at the 47th Sao Paulo International Film Festival, the largest film festival in Brazil. This project has been a passion-project for Weimin for many years, and together with a dedicated crew including Prof. Rosa Park (as the Sound Designer), and many students' involvement throughout the 12 years journey making this film. The film has just been selected by the 20th China (Guangzhou) International Documentary Film festival, the largest professional documentary festival in Asia, and it will soon launch into the film festival circuit, and touring museum shows including an upcoming show at the Hong Kong Palace Museum on December 8, 2023, and the San Francisco Asian Art Museum on February 3, 2024.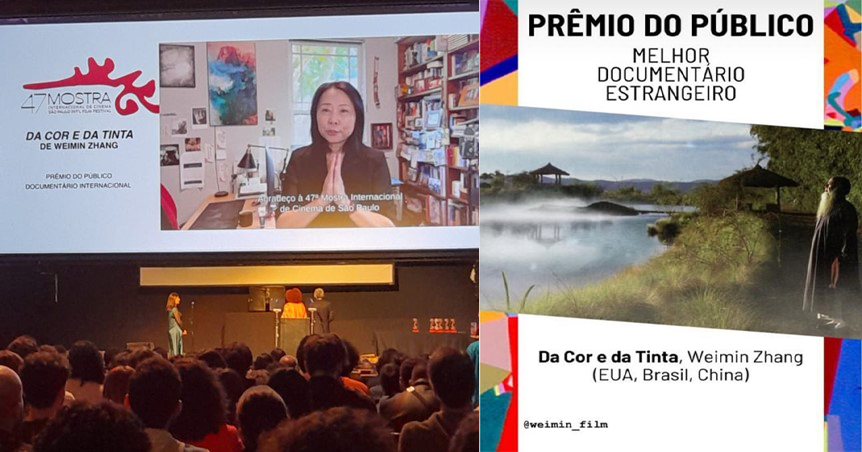 THE AMERICAN WAR, NOW STREAMING ON AMAZON
Andrés Gallegos, Cinema M.F.A. graduate, Daniel Bernardi and Trang Tran in Vietnam filming The American War (now on Amazon).
Professor Bernardi's film work is featured in Canvas Rebel Magazine, where he talks about championing storytelling in the service of social justice.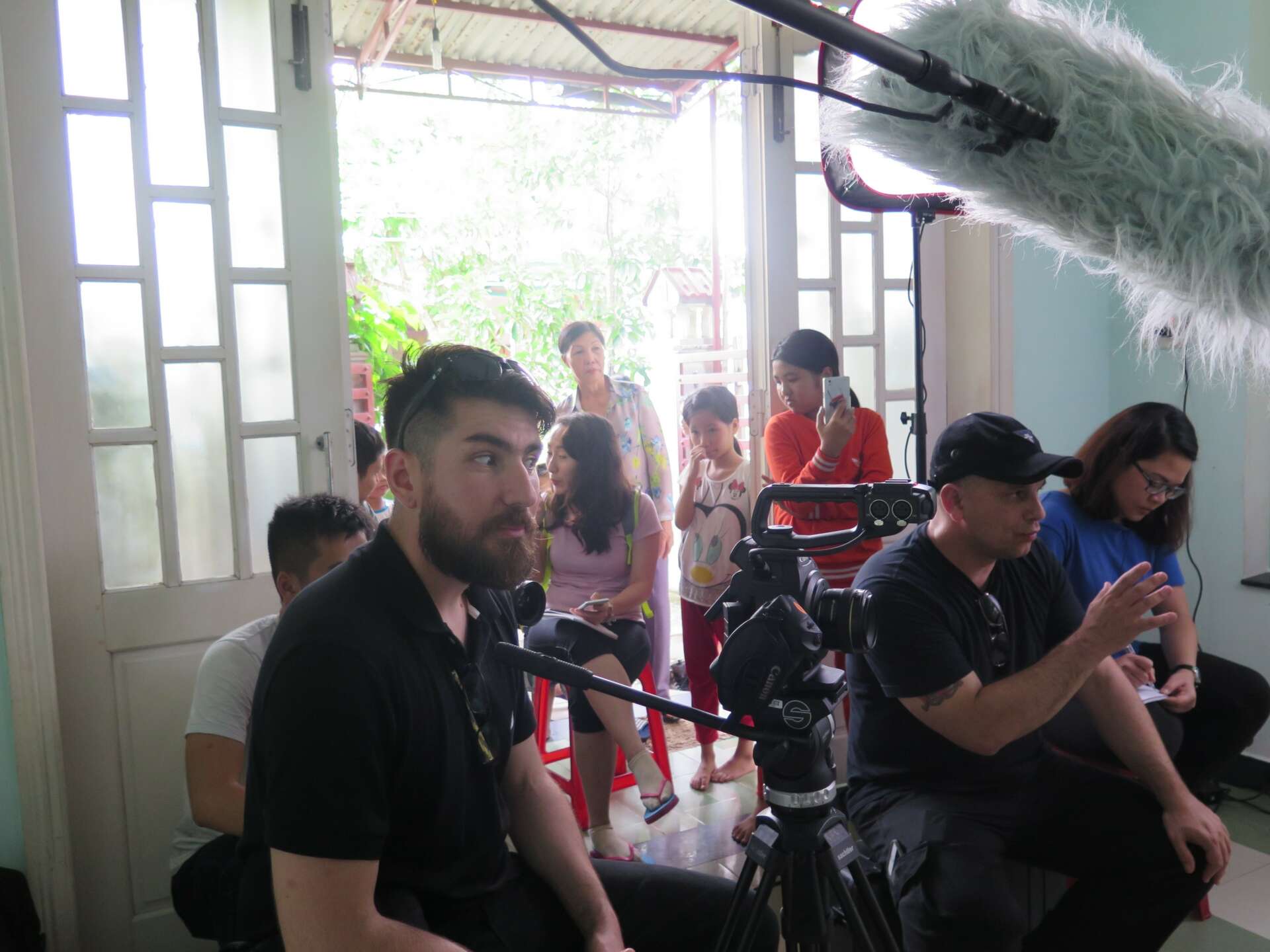 PROFESSOR McBRIDE AND HIS COMMENTARY FOR BILLY WILDER'S STALAG 17 BLU-RAY EDITION
Dr. Lejos on the Home Theater Forum writes about Professor McBride and the upcoming (November 21) Kino Lorber Blu-ray edition of Billy Wilder's STALAG 17: "Actually, a primary selling point for me is the new commentary by Joseph McBride, who like Bogdanovich (sadly no longer with us) was able to meet and reminisce with directors like Wilder, Welles, Hawks and Ford, and has been researching, writing, commenting and in McBride's case, teaching on the background, appreciation and style of these master directors for many years. His commentaries are always especially informative and engaging. He's done several for Kino including SOME LIKE IT HOT, THE APARTMENT (one of my favorite 4Ks), THE FORTUNE COOKIE (blu), THE LOST WEEKEND … even EMPEROR WALTZ and FIVE GRAVES TO CAIRO … so I guess if you want the equivalent of taking one of Mr. McBride's college courses, pick up a batch of these discs, along with his Wilder book, and you can lay claim to deserving a college credit without actually getting one."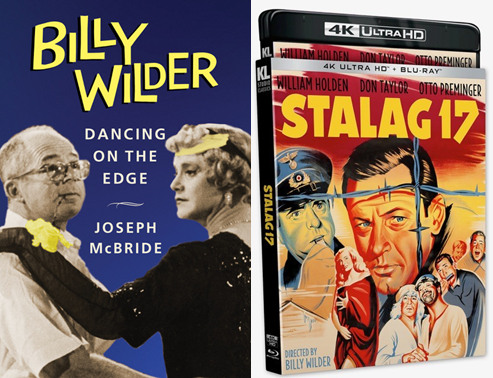 JOHN FORD STUDY PUBLISHED IN AN UPDATED AND EXPANDED VERSION
John Ford, the classic critical study by Professor Joseph McBride and the late Michael Wilmington, has been published this November by the University Press of Kentucky in an updated and expanded edition. First published by the British Film Institute in its Cinema Two series in 1974, the book now contains an expanded version of McBride's interview with Ford on the last day of his career in 1970. McBride has also added a new essay on Ford's silent work and essays on his view of race, his Irishness, and his sense of tragicomedy, along with many new illustrations.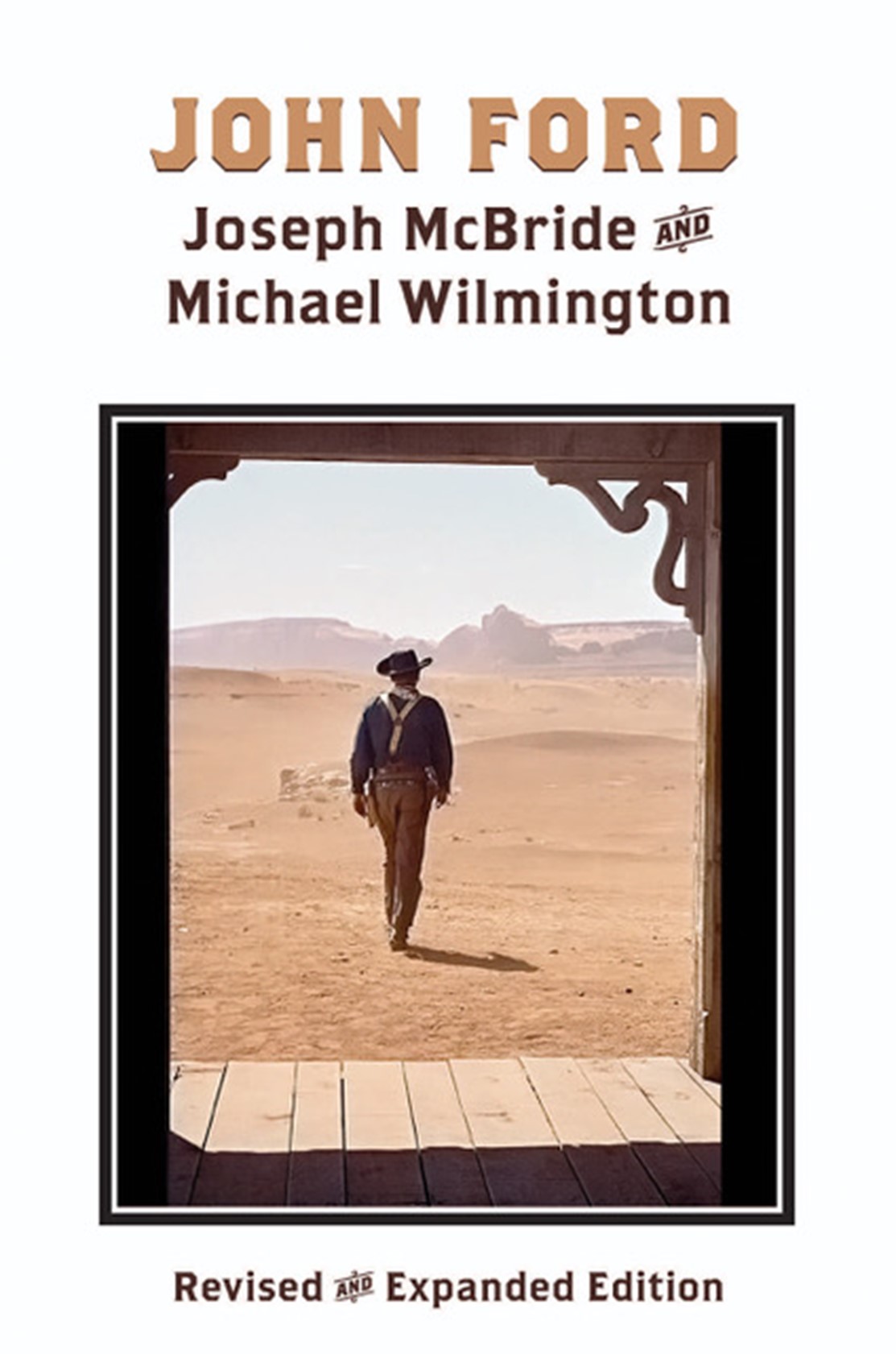 INTERNATIONAL FESTIVAL SUCCESS FOR ANIMATION ALUMNUS
Animation alumnus, John Fadeff, has won two festival awards for his experimental animated film, Things Between Other Things. Summer and upcoming fall international screenings include: CutOut Fest Animation and Digital Arts Festival, Queretaro Mexico; Northern Lights Fantastic Film Festival, Akureyri Iceland; Experimental Guanajuato, Guanajuato Mexico; 19 Festival Transterritorial Cine Underground, Buenos Aires Argentina; Trickfilm Contemporary Animation, Dusseldorf, Germany; Experimental Brazil, Rio de Janeiro Brazil; and Vagrant Film Festival, Minsk Belarus.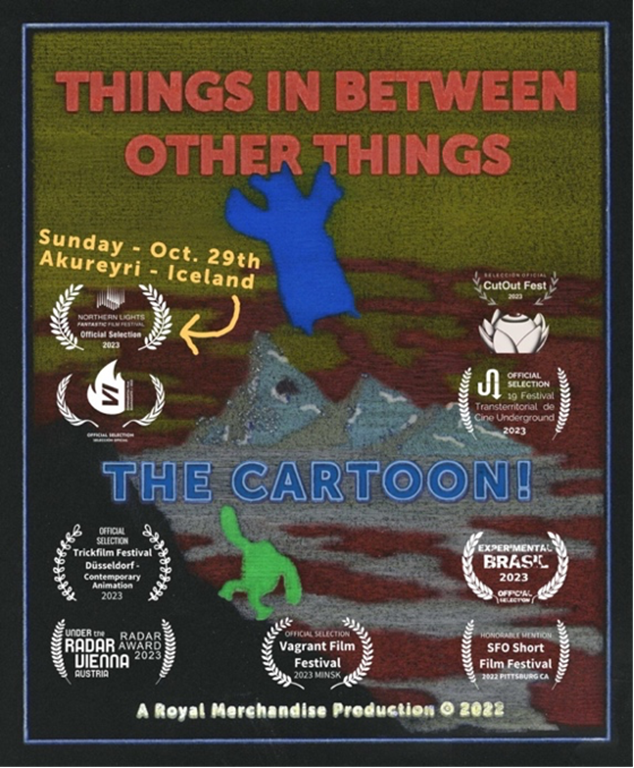 FEMINIST FILMMAKER FELLOWSHIP (F3)
The Feminist Filmmaker Fellowship (F3) aims to provide an open and safe space, virtual or in-person, advocating for womxn and non-binary filmmakers. Our events allow leadership development to flourish by listening to members to help bring their ideas to life.  
Follow us on Instagram @feministfilmmakerfellowship for all our updates and to help us make some films. 

JOIN QUEER CINEMA COALITION 
Queer Cinema Coalition ensures a safe and creative space for LGBTQ+ filmmakers on campus to learn how to make our mark in an industry that doesn't prioritize our voices. Through guest speakers, screenings/discussions, and community organizing, we build life-long connections to help us survive and thrive as filmmakers at SF State and beyond. 
Follow us on Instagram @queercinemacoalition. 


POPCORN CARNIVAL
On Halloween, the School of Cinema hosted a Popcorn Carnival, inviting students and community members for popcorn, trinkets, and other treats. Many students stopped by in their costumes to snack on freshly made popcorn and to socialize with other students, staff, and faculty of Cinema. Thank you everyone for making this event possible!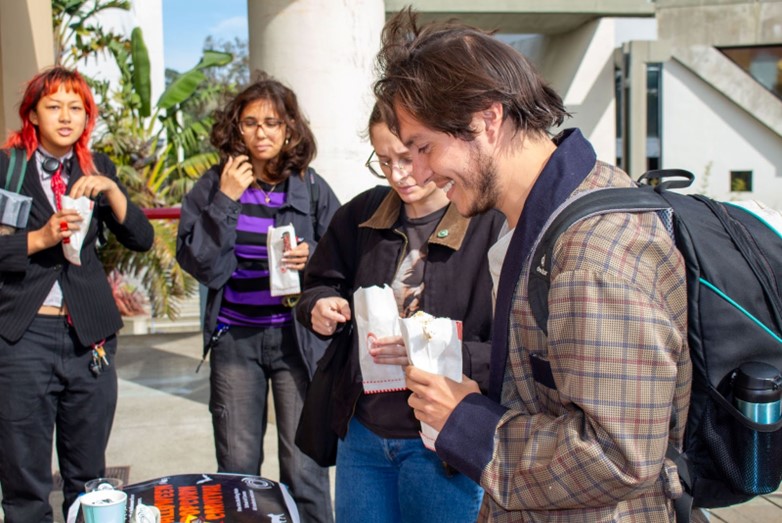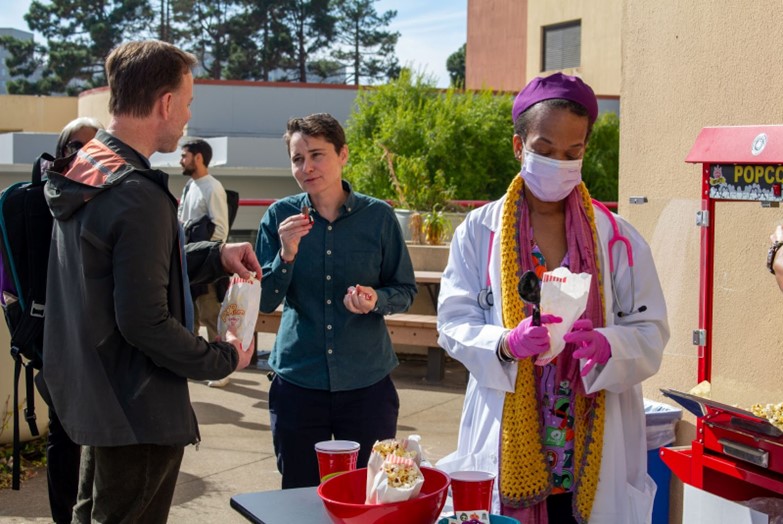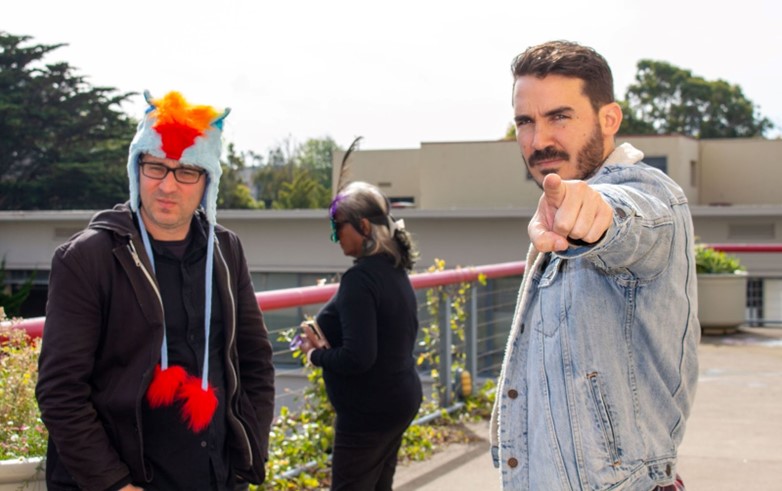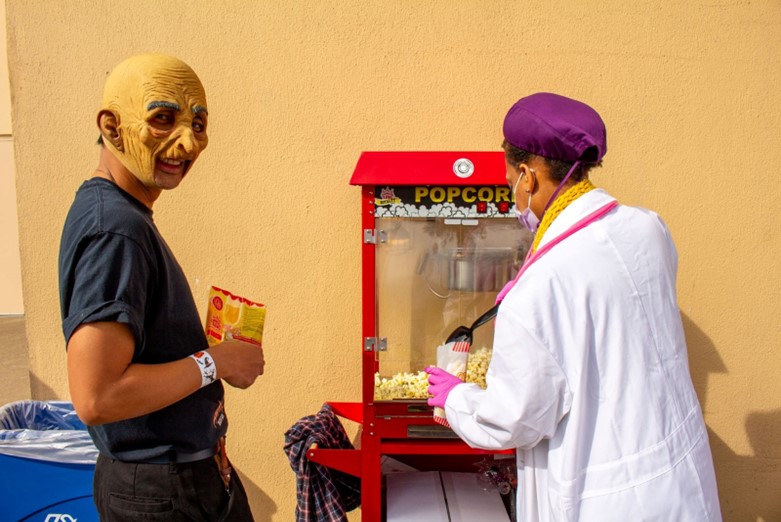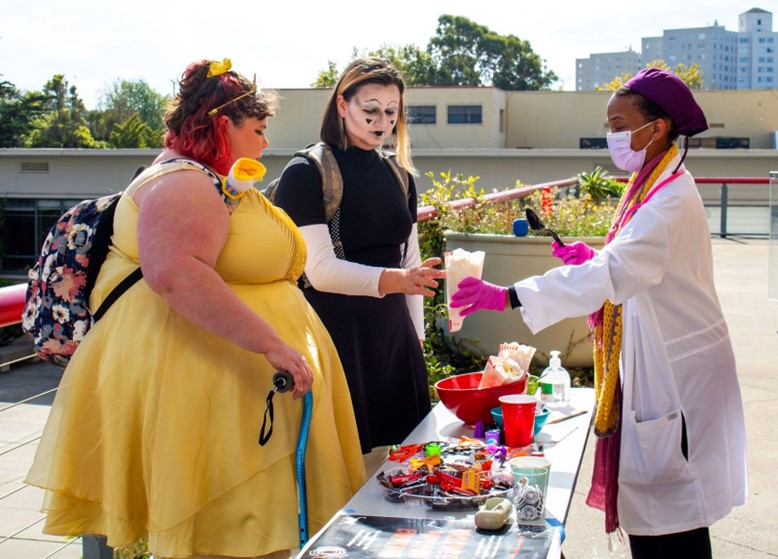 Dear Prospective Students: 
The School of Cinema offers in-person tours of our facilities. Please make an appointment by contacting the Cinema Office at cinema@sfsu.edu. 
Drew Lewis: School of Cinema, Tech 
Pablo Riquelme: Production Coordinator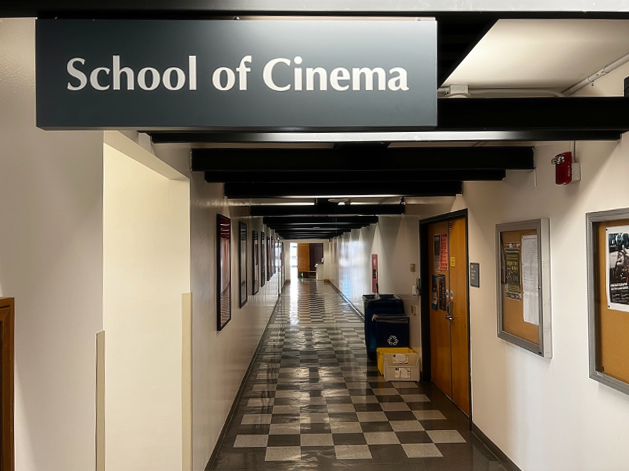 Monday, November 13, 2023
Fall '23 Withdrawal from Classes or University For Serious and Compelling Reasons Ends
Tuesday, November 14, 2023
Fall '23 Withdrawal from Classes or University By Exception for Documented Serious and Compelling Reasons Begins
Monday, November 20, 2023
Fall '23 Recess; No Classes; Campus Open
Tuesday, November 21, 2023
Fall '23 Recess; No Classes; Campus Open
Wednesday, November 22, 2023
Fall '23 Recess; No Classes; Campus Open
Thursday, November 23, 2023
Fall '23 Recess; No Classes; Campus Closed (Thanksgiving)
Friday, November 24, 2023
Fall '23 Recess; No Classes; Campus Closed
Saturday, November 25, 2023
Fall '23 Recess; No Classes; Campus Closed
Friday, December 1, 2023
Fall '23 Grading Option Deadline (This includes Cr/No CR or Letter Grade)
Friday, December 8, 2023
Fall '23 Last Day of Classes
Fall '23 Withdrawal from Classes or University By Exception for Documented Serious and Compelling Reasons Ends
Saturday, December 9, 2023
Monday, December 11, 2023
Tuesday, December 12, 2023
Wednesday, December 13, 2023
Thursday, December 14, 2023
Friday, December 15, 2023
Saturday, December 16, 2023
Sunday, December 17, 2023