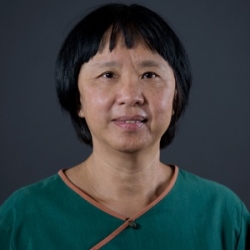 Phone: (415) 338-2518
Email: jlau3000@yahoo.com
Location: Fine Arts Building Room 439
Office Hours:
Tue:
2:30 p.m. - 3:30 p.m.
on Zoom
Office hours are by Zoom or email.
Jenny's Zoom Link (Password: 620680)
Biography
Professor Lau has published articles on pan-Chinese cinema in Wide Angle, Film Quarterly and Cinema Journal in the United States, and Breakthrough (a cultural magazine) and Ming Pao (a newspaper) in Hong Kong. Her articles have also been anthologized in Cinema and Desire: Feminist Marxism and Cultural Politics in the Work of Dai Jinhua, edited by Jing Wang, and The Cinema of Hong Kong: History, Arts, Identity, edited by David Dessler. Her book Multiple Modernities: Cinemas and Popular Media in Transcultural East Asia were published by Temple University Press in 2003. Some of her works have been translated into Chinese and German.
Education
Ph.D., Northwestern University, Evanston
Selected Publications & Filmography:
"Chinese Cinema Revisits the City: Beijing Trilogy and Global Urbanism of the Nineties, in Chinese Connections: Critical Perspectives on Film, Identity, and Diaspora". Ed. Gina Marchetti and Peter X. Feng. Temple University Press, 2009.
"Peking Opera Blues: Imploding Genre, Gender, and History, in Film Analysis: A Norton Reader". ed. Jeffrey Geiger and R.L. Rutsky. Publisher: W.W. Norton, 2005.
"Multiple Modernities. Cinemas and Popular Media in Transcultural East Asia", Editor. Temple University Press, 2003.
"Judou—A Hermeneutical Reading of Cross-Cultural Cinema", (reprint) in Celluloid China: Cinematic Encounters with Culture and Society. ed. Harry Kuoshu. Southern Illinois University Press, 2002.
"Besides Fists and Blood: Contemporary Hong Kong Cinema and its Comedy Master", (reprint) in Cinema of Hong Kong: History, Arts, Identity. ed. David Desser and Poshek Fu. Cambridge University Press, 2000