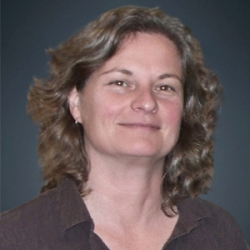 Martha Gorzycki
Professor
Animation Coordinator and Advisor
Phone: (415) 338-1879
Email: gorzycki@sfsu.edu
Location: Fine Arts Building, Room 335
Office Hours:
Wed:
1:00 p.m. - 3:00 p.m.
in FA 335 or Zoom by appointment
Sign-up for advising time & Zoom link.
Biography
Professor Gorzycki runs the Animation Program in the School of Cinema. A painter and experimental animator, Gorzycki is an award-winning animator, filmmaker, and media artist who experiments with traditional and digital animation and new media. Her films and installations explore intersections of dreams, cultural mythologies, and social issues. She has exhibited on LED billboards and in media art festivals in the UK, Spain, Australia, and India as well as in film festivals around the world. Her work is included in library collections and film compilations in Europe and the US. Her latest experimental animated documentary, Voices From Kaw Thoo Lei, has won 20 awards and screened in over 50 international festivals.
Education:
M.F.A., San Francisco State University, San Francisco, CA
B.A., Yale University, New Haven, CT
Selected Publications & Filmography:
Filmography
"Voices From Kaw Thoo Lei" 2015 (10min experimental animated documentary) Director/Animator
"Unfurling" 2006 (2min experimental video & installation) Director/Animator
"Reckless Echoes" 2006 (5min experimental video & installation) Director/Animator
"Peace Dreams" 2005 (7min 16mm cel animation) Director/Animator
"Five Suns, Creation Stories of Mexico" 1995 (60min 16mm cel animation) Director of Photography/Animator
"All My Relations, Legends, and Wisdom of Nakota Elder Grandmother Kitty" 1994 (60min CD) (Recording Engineer)
"Popol Vuh, Maya Creation Stories" 1990 (60min 16mm cel animation) Director of Photography/Animator